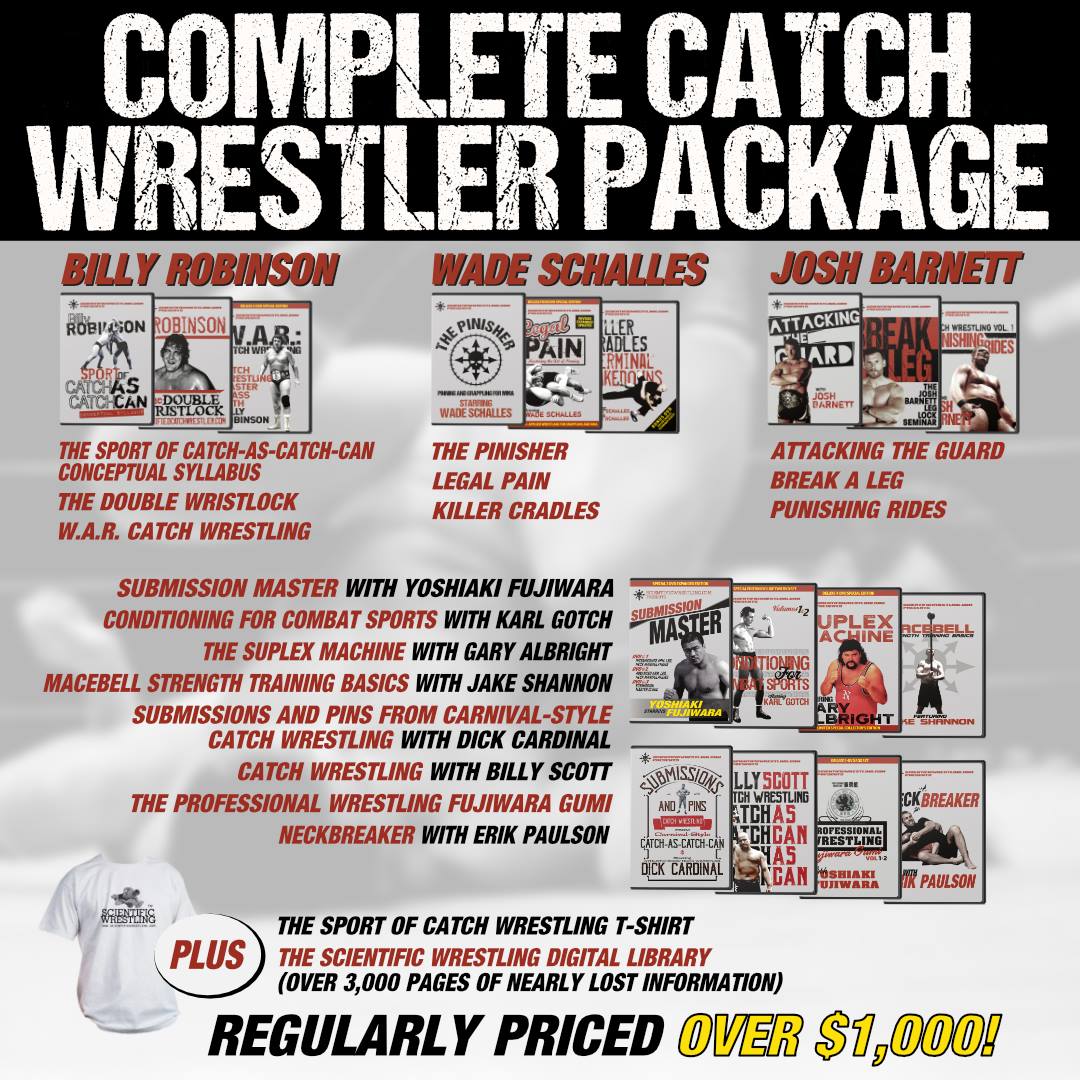 The COMPLETE Scientific Wrestler Package
For those of you ready and able to have all the best information on all the best kept secrets in grappling NOW, we are offering this exclusive package deal.
This package includes:
The entire Scientific Wrestling Digital Library (that's over 3,000 pages of material from the legends themselves) sent to you immediately electronically.
Erik Paulson's shocking NECKBREAKER DVD.
Both Attacking the Guard AND Punishing Rides by Josh Barnett!
The complete Submission Master course on DVD by Mr. Yoshiaki Fujiwara.
The deluxe 4-DVD set LEGAL PAIN by the legendary World record holder Wade Schalles AND his incredible follow-up KILLER CRADLES
The old school tricks of carnival wrestler Dick Cardinal in Submissions and Pins from Carnival Style Catch-As-Catch-Can
The LEGENDARY Conditioning for Combat Sports DVD by Mr. Karl Gotch.
Combat Strength Training: Wrestling with Weights by UWFi legend and Lou Thesz's only protege, Mark Fleming.
The original Macebell Strength Training Basics DVD!
W.A.R. Catch Wrestling 4-Disc set by Billy Robinson.
The Sport of Catch-As-Catch-Can Conceptual Syllabus by Billy Robinson to help you master the basics!
The highly acclaimed Double Wrist Lock DVD by Billy Robinson.
Brutal fight footage and instructional material in Pro-Wrestling Fujiwara-Gumi starring Mr. Fujiwara, Minoru Suzuki, and Masa Funaki!
Also, watch ALL of the amazing fights of Gary Albright: The Human Suplex Machine on this incredible DVD set.
YOU save 15% when you get The Complete Catch Wrestler Package as a paid member to Scientific Wrestling Online (Members save an additional 10%!)
Owners of The Complete Catch Wrestler Package will also receive their very own Scientific Wrestling T-shirt
To learn more about each product, click on the Related Items links below.