King of Catch Wrestling Tournament
One low registration fee! Only $40!
It all starting at the beginning of the summer of 2007 when our rule-system Eastern Qualifier steamrolled through Madison, Mississippi. Then our Canadian Qualifier barged through Quebec. Now the King of Catch Wrestling hails its long-awaited return to the Southern California grappling scene!
REGISTRATION INFORMATION

Saturday May 19th, 2012

Hemet, California

Hosted by: Stable Jiu Jitsu
175 N. Cawston Ave. Suite 130A
Hemet, CA 92545
(West Hemet Behind Chase Bank)

Weigh-ins - 7:30am to 8:30am

9am - 5pm - Competition
To compete, simply choose your appropriate weight class, click 'Add to Cart', pay your registration fee, fill out your registration form completely, then just show-up on-time, take 'em down, and tear 'em up!
Every competitor gets at least 2 matches since it is best 2 of 3 falls!
*******************************************************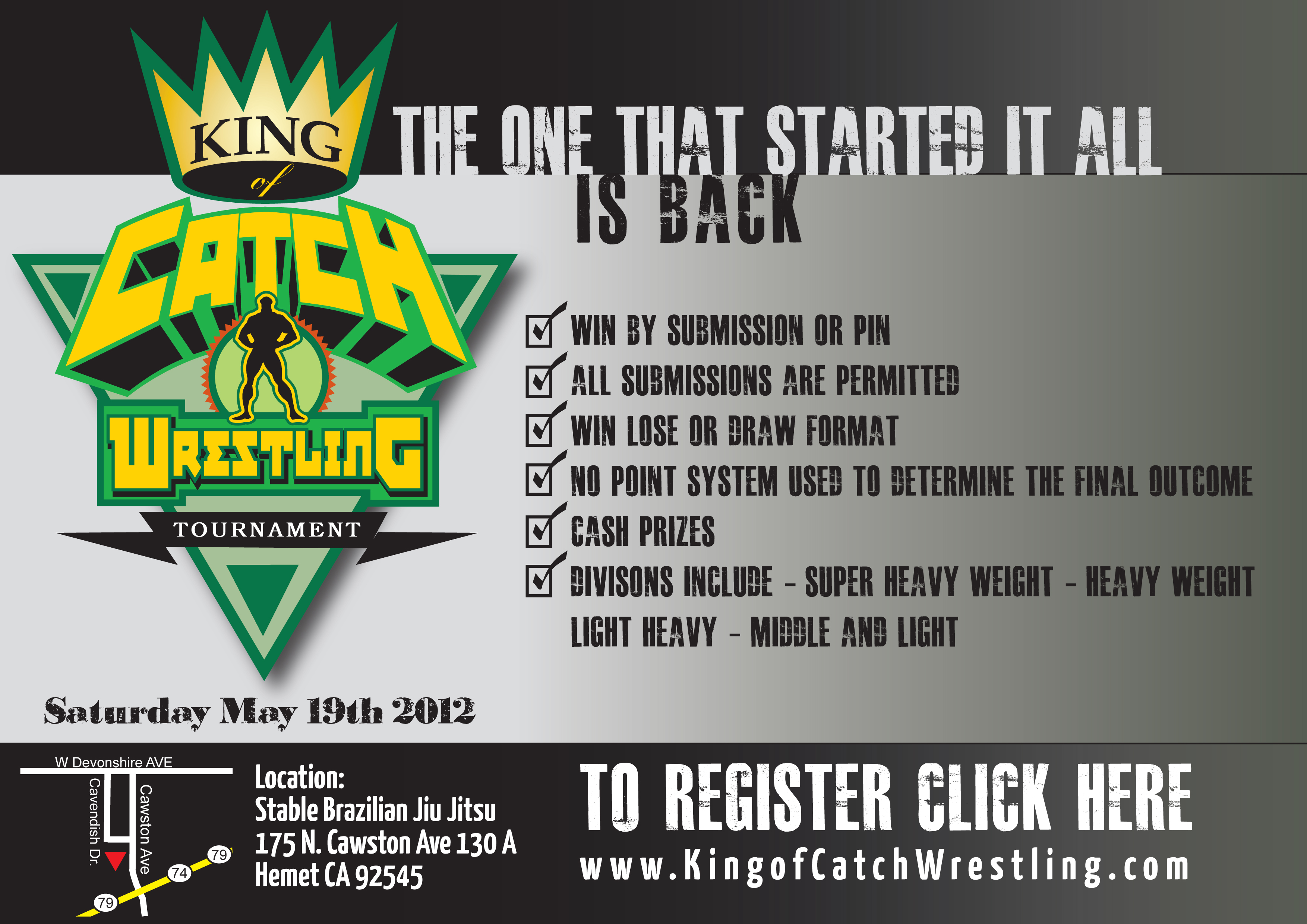 Scientific Wrestling's KING OF CATCH WRESTLING TOURNAMENT
ATTENTION EX-HIGH SCHOOL AND COLLEGIATE WRESTLERS: Have you wanted to enter a grappling tournament but felt your submission skills weren't up to par? Well all you have to do is avoid a submission and pin your opponent's shoulders for a three-count to win at the King of Catch Wrestling.
ATTENTION SUBMISSION GRAPPLERS: How many times have you competed against a sandbagger? At the King of Catch Wrestling, there is no 'beginner', intermediate', or 'advanced' division. The whole tournament is open to all levels. WORSE, how many times have you lost a match on an arbitrary 'point system'? At the King of Catch Wrestling we have no point system WHATSOEVER.
ATTENTION BRAZILIAN JIU-JITSU STYLISTS: Many know that Mitsuyo Maeda taught Helio Gracie to fight. What most do not know is that Maeda perfected his system competing in Catch-As-Catch-Can tournaments (as "Count Koma") at the turn of the 20th Century. Maeda is rumoured to have fought over 2,000 matches in his career and he only lost two matches and one in the "catch-as-catch-can" world championships held in London (he entered in both the middleweight and heavyweight divisions and advanced to the semi-finals in two weight classes)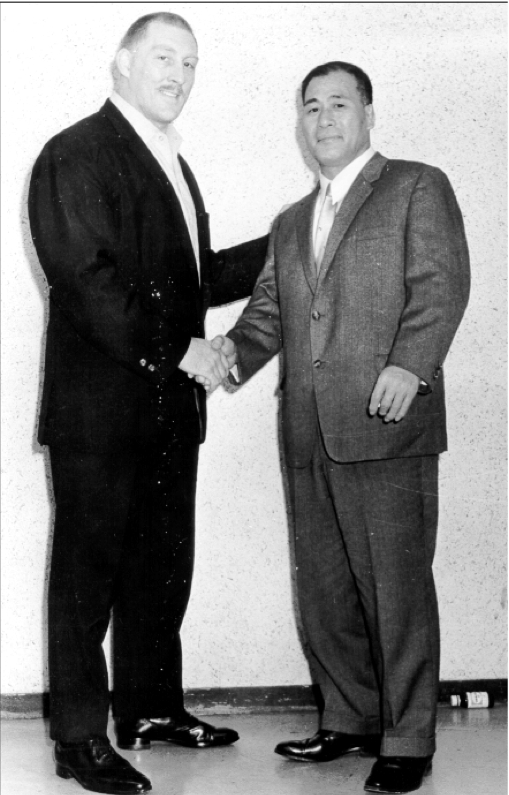 Karl Gotch with Masahiko Kimura
Maeda wasn't the only one, the famed Masahiko Kimura learned legitimate Catch-As-Catch-Can while working as a Professional Wrestler for Rikidozan in the early 1950s. Later Kimura would go on to beat Helio Gracie with the bread and butter hold of catch wrestling; the double wrist lock. Join the long tradition of game Jui-Jitsu players that compete in Catch-As-Catch-Can competitions!
ATTENTION PROFESSIONAL WRESTLERS: Tired of people calling your passion phony? Come put yourself to the test and see what it is like to compete under classic Professional Wrestling rules FOR REAL.
ATTENTION MIXED MARTIAL ARTS FANS: Love the action of MMA but bored to tears watching competitive BJJ or submission grappling tournaments? The King of Catch Wrestling pinning provision pushes the action (no more stalling in the guard or "lay and pray") and with no point system, there are no politics or screwy decision wins.
*******************************************************
All King of Catch Wrestling qualifier tournaments have adopted the
Official Scientific Wrestling CACC Rule Set
below:
- Submission or pin wins. All submissions are permitted and the pin count is 3 (both shoulders must be touching for a full 3 count). Slamming and strangles allowed.
- All matches are best 2 of 3 falls.
- Win, lose, or draw format, with no point system used to determine the final outcome.
In the event of a draw during tournament play, a replay is played. In the event of a second draw, both wrestlers will be eliminated.
-12 minute time limit per fall with 1 minute rest between falls.
-All matches occur in a ring or mat. Any body part on the ropes or out of bounds breaks the action and referee re-sets opponents standing in center (at referee's discretion).
-No striking, biting, eye gouging, hair pulling. Instant disqualification.
-Divisions include Super Heavy Weight (over 225), Heavyweight (over 200 lbs), Light Heavy (180 lbs) , Middle (160 lbs), and Light (140 lbs).
-All competitors must be 18 years of age or older.
The true spirit of our rules* are "Put Up or Shut Up" and harken back to American post-Civil War and late 19th Century Lancashire professional style Catch Wrestling bouts (during those days, each wrestler would bring a matching purse and the winner would take all. This provided unparalleled incentive for hard work from both players. This also prevents collusion between participants, i.e., "works", "fixes" & "dives").
Eventually special recognition for each weight class will be determined by statistical means weighted by the following criteria:
1. The competitor with the winningest record (in win, lose, draw format).
2. The most active competitor (number of matches).
3. The average length of time it takes to win each match (the shorter the better)
*Special thanks to Karl Gotch for guidance and direct input on our rules.
*******************************************************