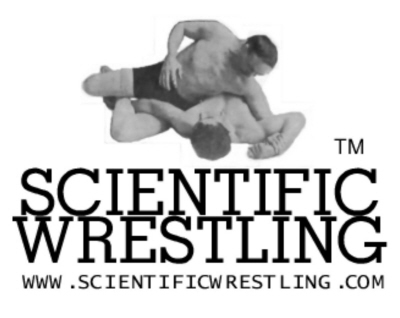 The Official Blog of Scientific Wrestling
Wednesday, Apr 20, 2016
SPRING 2016 SCIENTIFIC WRESTLING UPDATE
By Jake
Wednesday, Apr 20, 2016 12:37
So much happening in the world of catch wrestling right now, it's an awesome time to be involved! Here are Scientific Wrestling's updates and most recent contributions.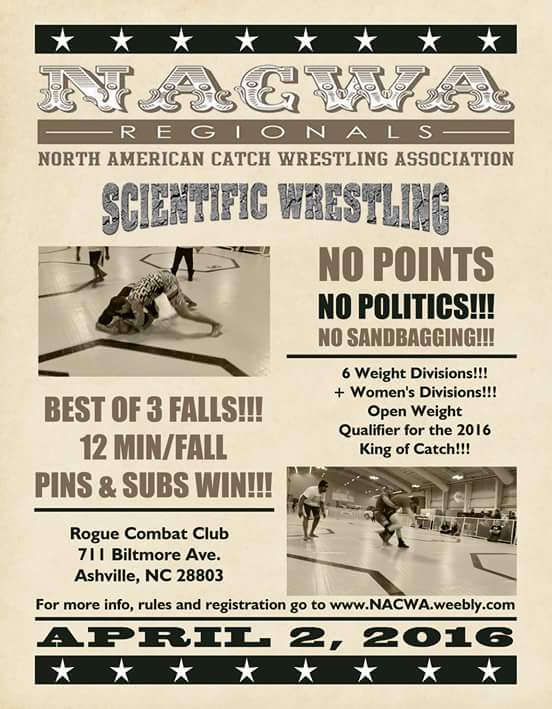 1) 2016 KING OF CATCH WRESTLING: CAROLINA CATCH CHALLENGE RESULTS: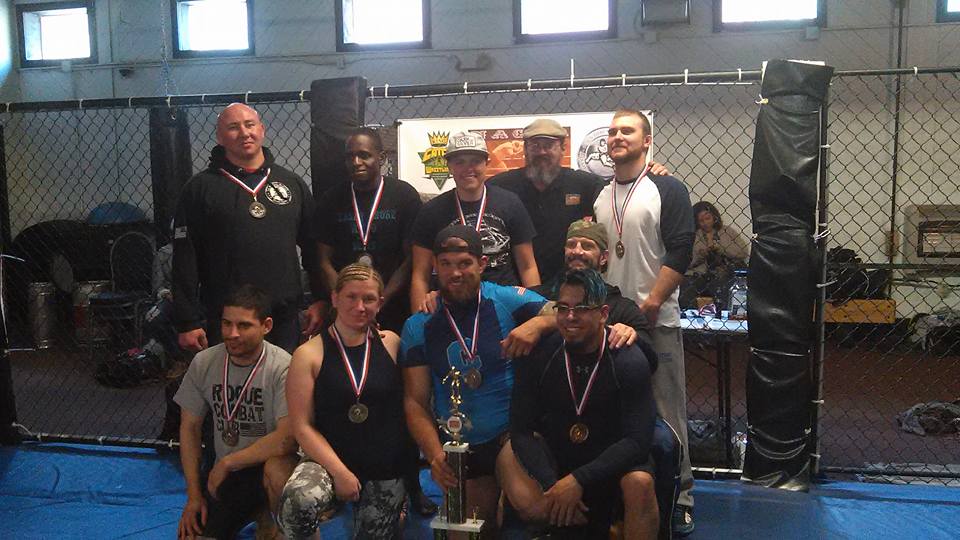 NACWA's Dan Kanagie did ANOTHER amazing job giving aspiring catch wrestlers a venue where they can test their mettle! Here are the results:
Winner of the Women's Div.
Briana Andrews
Fall 1: Pin
Fall 2: Choke

Winner Light Weight Div
Greg Satterfield
Fall1: Pin
Fall2: Pin

Winner @ Middle Weight
Michael Elliston
Fall 1: Choke
Fall 2: Choke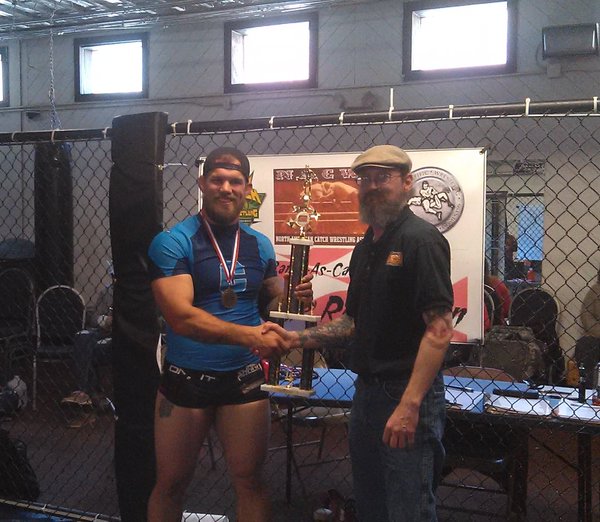 Winner @ Heavyweight Div
Johnny Buck
Fall1: Cross Face
Fall2: Heel Hook

FULL RESULTS:
Women's Div.
Bri Andrews 1st
Christine Spencer 2nd

Light Weight Div.
Greg Satterfield 1st
Vollie Hollands 2nd
Michael Hernandez 3rd

Middle Weight Div.
Michael Elliston 1st
Patrick Greene 2nd
Ryan Steinauer 3rd

Heavyweight Div.
John Buck 1st
Wohali Revels 2nd

Carolina King of Catch/Absolute Div. John Buck
2) JOSH BARNETT'S SOUTHERN CALIFORNIA CATCH WRESTLING TOURNAMENT
From Josh:
"We are holding another Catch Wrestling tournament this Saturday, May 7th at Brea HS to further develop and continue with creating a modern Catch-as-Catch-can style for wrestling.
Our goal is to bring the sport of Catch Wrestling back to the public eyes and back people back on to the mats as another addition to the existing styles of amateur wrestling (Folkstyle/Freestyle/Greco-Roman)."
It will be held here:
Brea Olinda High School
789 N. Wildcat Way
Brea, California 92821
More rules and more info visit the event's Facebook page here!



3) PIN AND SUBMIT TRAINING CAMPS UPDATES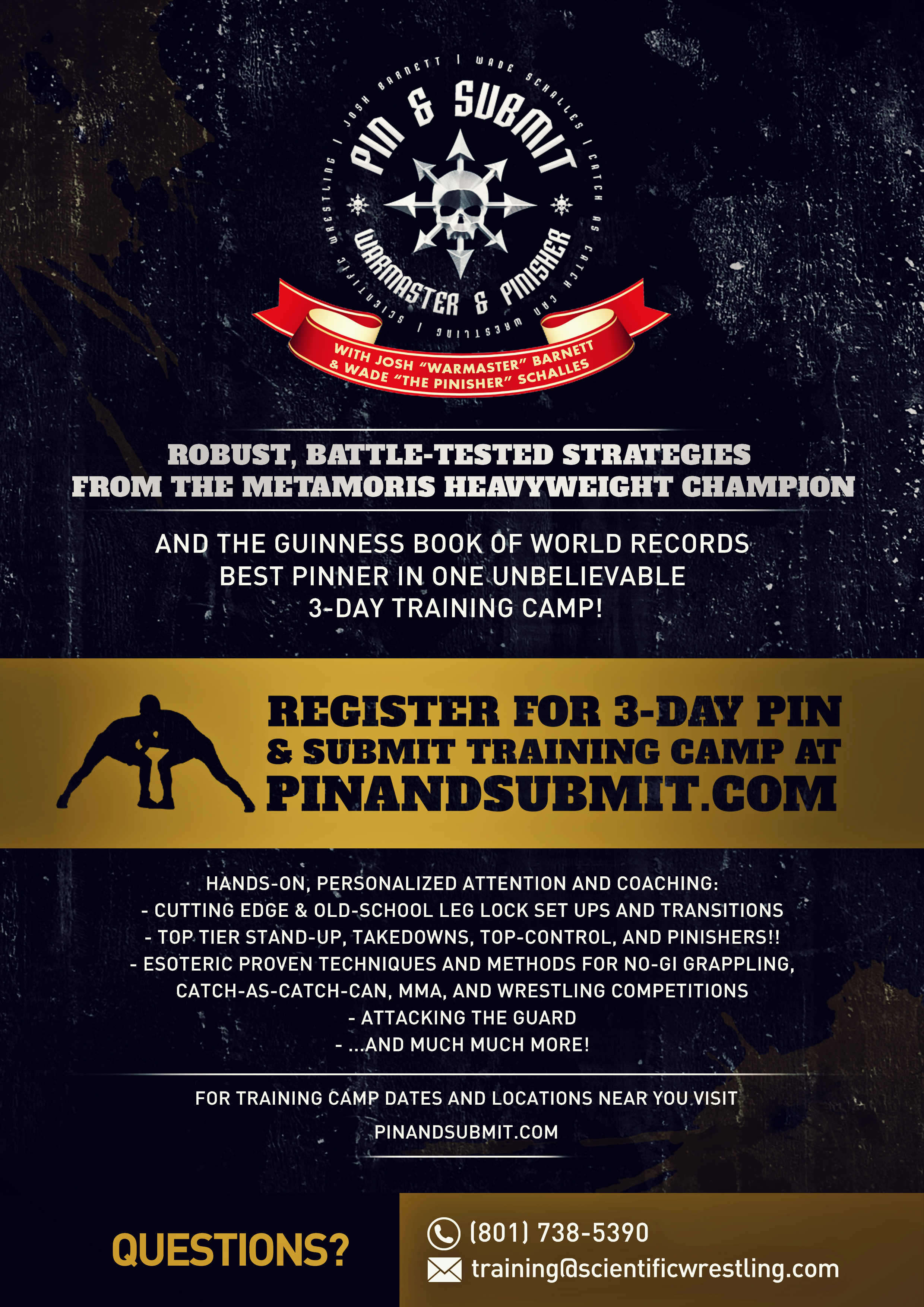 Championship Submissions, Pins and PINISHERS for Mixed Martial Artists, No-Gi Grapplers and Catch-As-Catch-Can Wrestlers with Metamoris Heavyweight Champion Josh Barnett and Guinness Record Holders for most pins Wade Schalles! Here are the finalized dates and locations for our 2016 Pin and Submit Training Camp tour. Grab your chance to train with with Wade and Josh below!
*** Los Angeles ***
San Marino High School
2701 Huntington Dr.
San Marino, California 91108
*** Denver ***
Child's Play Fight and Fitness Gym
15350 E Hinsdale Dr.
Centennial, Colorado 80112
*** London ***
Premier Mixed Martial Arts - Harrow Central
Trident Point, Ground Floor
19 Pinner Road
HA1 4FR Harrow
United Kingdom
*** Doncaster ***
ACMAC
4 Sandford Road
Balby, DN4 8PL
Doncaster
*** Ft. Lauderdale ***
CSMMA
2800 Gateway Dr.
Pompano Beach, Florida 33069
4) MISC. ARTICLES & CLIPS
*Josh Barnett Catch Wrestling Breakdown (Barnett vs LIster)

*Wounds of a Boxer: Medical Secrets from Ancient Rome
*MASSIVE but amazing Meltzer article on Billy Robinson
*LIVE AGGRESSIVELY PODCAST with MIKE MAHLER & SINCERE HOGAN - Ep.171: Jake Shannon, the creator of the Macebell & scientific wresting talks teaming with wrestling legends Karl Gotch, Bill Robinson, and Fujiwara, what led him to develop the macebell, macebell vs kettlebell training, Josh Barnett, and more
Permalink
Digg this
Add to del.icio.us
Submit to Reddit
Technorati Profile
Monday, Feb 29, 2016
An EPIC 2016 revealed....!
By Jake
Monday, Feb 29, 2016 12:37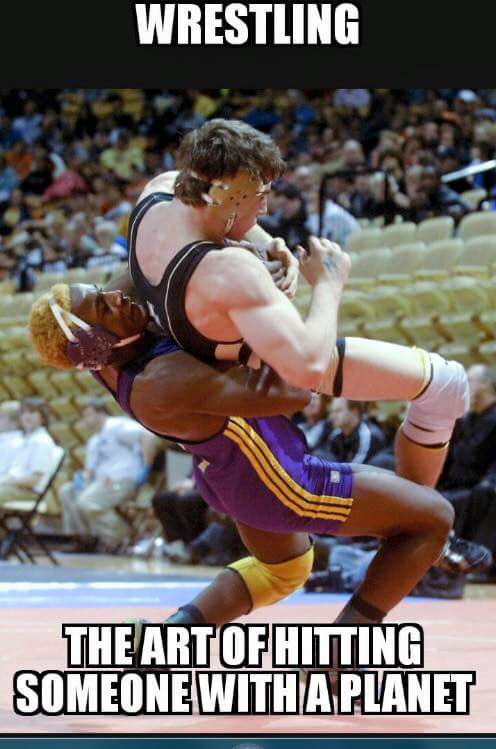 1) Scientific Wrestling's 2016 Pin and Submit Training Camp Tour with Josh Barnett & Wade Schalles!
EPIC ANNOUNCEMENT!!
Scientific Wrestling's 2016 "PIN & SUBMIT" Training Camp Tour is hitting the road with both Josh "WAR MASTER" Barnett and Wade "THE PINISHER" Schalles headlining!
Learn wrestling, pinning and submissions from the battle-tested best at the following tour dates and locations:
4/29 - 5/1 Doncaster, U.K.
5/6 - 5/9 London, U.K.
6/3 - 6/5 Los Angeles, CA
8/19 - 8/21 Denver, CO
10/7 - 10/9 Fort Lauderdale, FL

In addition to hours and hours of hands-on attention from our head coaches, training camps attendees will also receive:
-Signed and Verified Scientific Wrestling Certification
-Candidates will also receive free lifetime membership to ScientificWrestling.com
-The Scientific Wrestler Certification Conceptual Syllabus DVD featuring Billy Robinson, the PINISHER DVD starring Wade Schalles, and ATTACKING THE GUARD starring Josh Barnett! (a $212 value!)
-Your gym or school can also receive FREE promotion as either an USA CATCH WRESTLING or UNITED CATCH WRESTLING Club

Email questions to training@scientificwrestling.com
SPECIAL LIMITED TIME OFFER FOR NEW ATTENDEES: When you register before 3/31/2016 you will get an additional 20% off Level 1 training camp!

Enter "WIN" (without quotes) in the special referrer field at checkout to save $$$!!
Click Here to Learn More (and save with early-bird registration)!



2) Your NEXT shot: THE KING OF CATCH WRESTLING TOURNAMENT
For more info, listen to Eddie Goldman's latest episode of NO HOLDS BARRED RADIO.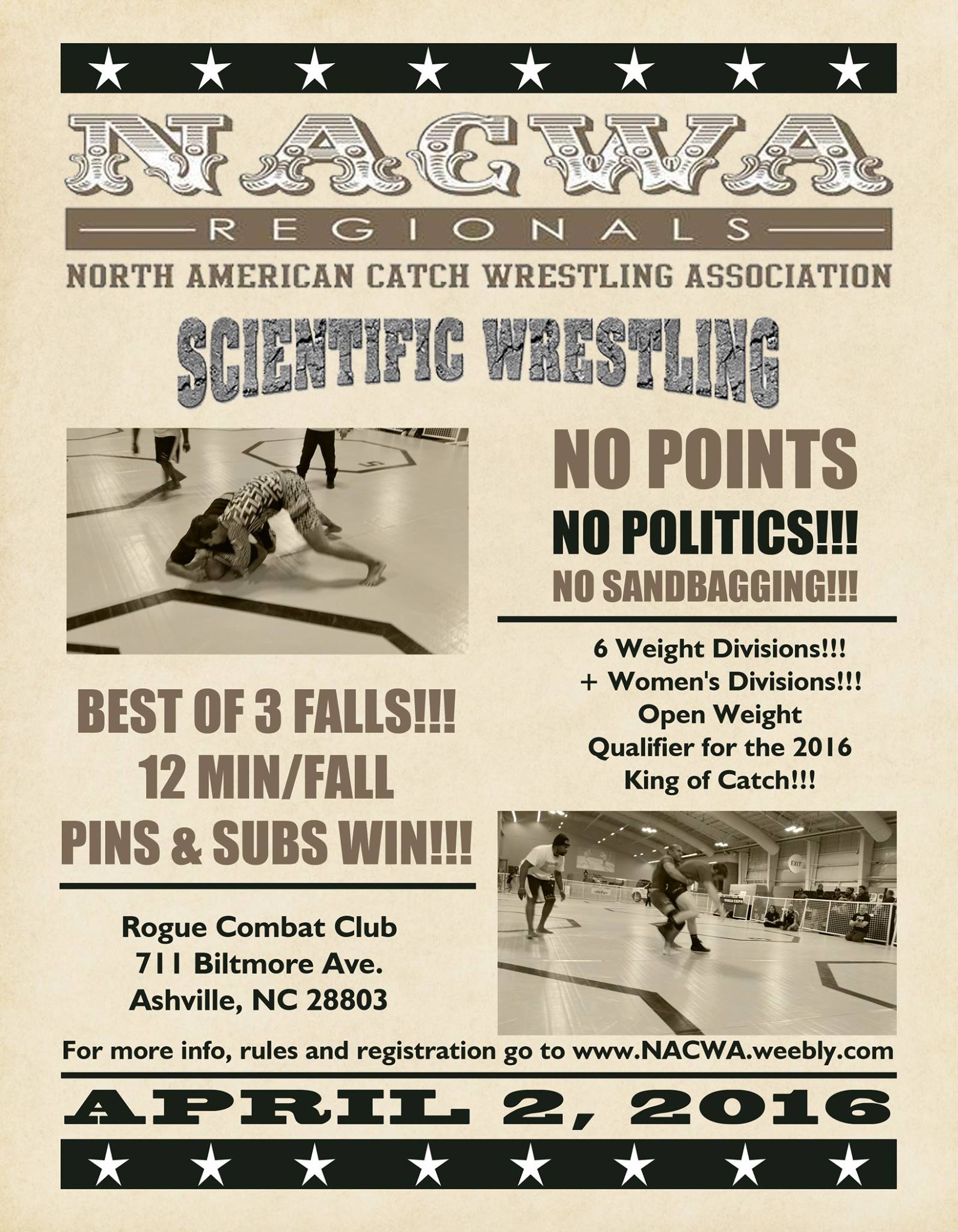 APRIL 2, 2016
NACWA CACC TOURNAMENT & KING OF CATCH REGIONALS!!!
This will be our standard format with 6 WEIGHT DIVISIONS + WOMEN'S DIVISION as well as the Carolina Regional Qualifier for the 2016 King of Catch Championship later this year!!!
Click Here For Rules and Online Registration!
3) VIDEO CLIPS AND ARTICLES OF INTEREST
SW ASST. COACH SAM KRESSIN WITH AN OLD BILLY ROBINSON TRICK
SUPLEX ESCAPES IN MMA & GRAPPLING
Escape Armbar with Suplex
Escape Guillotine with Suplex
JAMELLE JONES WITH A PINISHER IN A MMA FIGHT
MMA Banana Split
CARTWHEEL GO-BEHIND
AMAZING!
ARTICLES
Why You Need to Hire More Wrestlers
The Real Techniques of Professional Wrestling
WADE SCHALLES: Folkstyle or Freestyle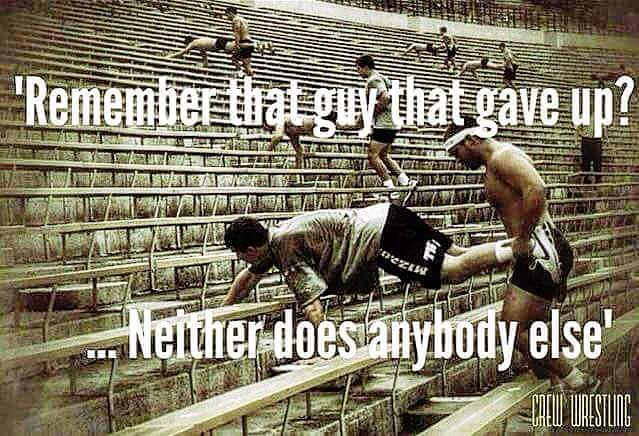 Permalink
Digg this
Add to del.icio.us
Submit to Reddit
Technorati Profile
Tuesday, Nov 24, 2015
THANK YOU FOR AN AMAZING 2015, We're Heading into 2016 STRONG!!
By Jake
Tuesday, Nov 24, 2015 08:00
Wow, what a year! We help successful camps across the country and abroad, tournaments, etc. Thank you to EVERYONE that has supported our efforts to spread the good word about our amazing sport!
1) Coming Up: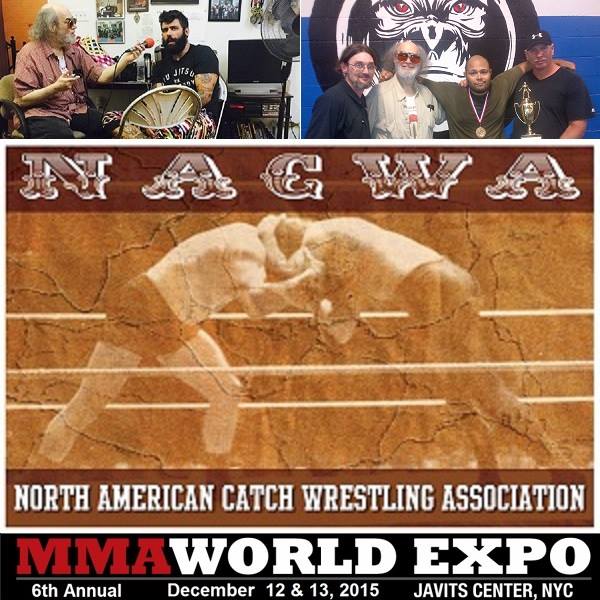 King of Catch Wrestling Heavyweight Championship and NACWA Invitational at the World MMA Expo at the Javits Center in NYC, Dec. 13!
There will be a brief open seminar/rules demo followed directly by 5 hard fought Catch-As-Catch-Can wrestling matches:
Middle Weight - Joe Shick (Brazen MMA) vs Anthony Pipola (NY Combat Sambo)

Light Heavyweight - Steven Yokay vs Justin Sumter

Light Weight - Phil Caracappa vs Hassan Hope

Super Heavy - Nick Caggia (Pro-Grappling League 2013 heavyweight champion and winner of the 2014 SnakePit USA Catch Wrestling open weight championship) vs TBA

Heavyweight Championship - Travis Newaza (current West Coast KoC Champ) vs Thomas Velasquez (2x East Coast KoC Champion).
2) HOLIDAY DVD SPECIALS!
The Complete Catch Wrestler Package
Regularly this is a great deal at $677.00 (you save $523) but until Dec. 11th you can save a whopping $853!!!! Just use discount code "CCW" (without quotes) at checkout to get them all for just $347!!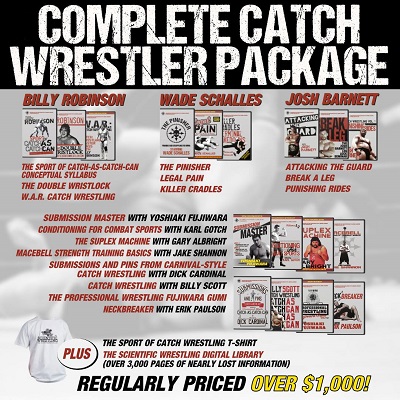 The Billy Robinson Signature Series
Regularly this is a great deal at $159.00 (you save over $76) but until Dec. 11th you can save over $115!!!! Just use discount code "BRSS" (without quotes) at checkout to get all three Billy Robinson DVDs for only $119.99!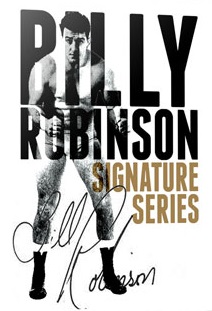 Also, remember when you sign up for a membership with ScientificWrestling.com you get a 20% discount on ALL our instructional DVDs!
3) Josh Barnett, Submission Flow: Jiu-Jitsu Magazine, Issue 32:
4) Wade Schalles Roasts Randy Couture You have to watch this hilarious clip of Wade "THE PINISHER" Schalles flex his comedic muscles!:
5) PINISHER Training Camp UK recap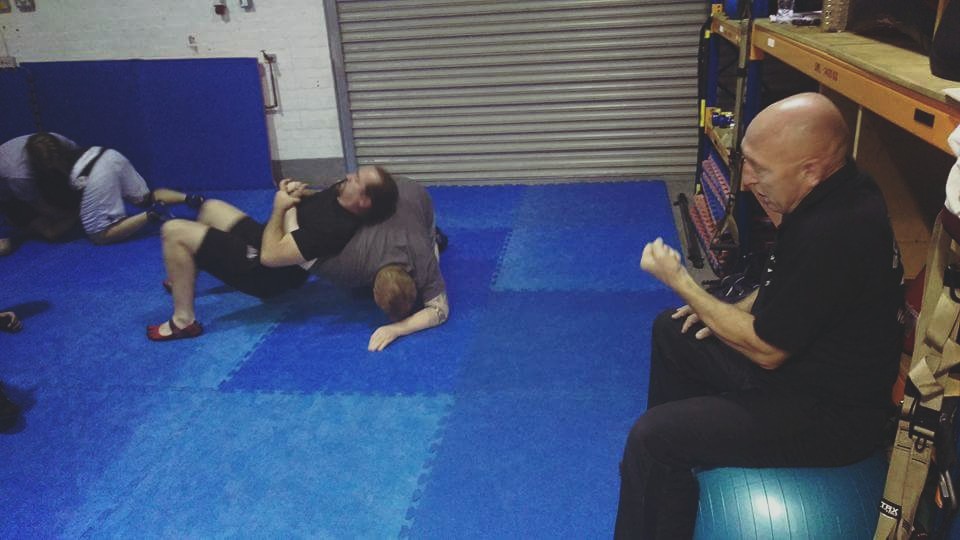 Here's a brief recap by our man in the UK Martin "Oz" Austwick:
"It was an amazing day with Wade pushing everyone just a little harder than they wanted, and all with his usual twinkle in his eye. He likes to build wrestling from the end result back towards the start, so we started with an entire day of groundwork. We covered the chin-pick-twist, the back hook, the half nelson, the crooked head scissors, the DWL and a few other nasty arm subs. We looked at a few techniques that flow naturally from a sit-out, form both sides of the story. And then we moved on to identifying what is "on" and what isn't. With partners deliberately trying to sabotage moves.
Wade is an amazing coach, with a real eye for detail, and a real sense of humour when he teaches. His ability to break down basic bio-mechanics into simple, easy to understand concepts is second to none, and explains why he is the most successful pinning wrestler of all time. His ability to tailor what he is doing to each individual person, and to demonstrate each and every variation of what he is talking about is what sets him apart as a coach.
That man knows more ways to hurt you than I thought possible. Really looking forward to day 2, here's hoping I survive!"
BIG TRAINING CAMP ANNOUNCEMENT!!! Also, I am excited to announce that our 2016 Scientific Wrestling Training Camps will feature BOTH Wade "THE PINISHER" Schalles and Josh "WARMASTER" Barnett!! THIS IS YOUR CHANCE TO BE COACHED BY TWO OF THE WORLD'S GREATEST IN ONE CAMP!! Here's our tentative 2016 Schedule:
Los Angeles Camp - April, dates TBA
London UK Camp - May, dates TBA
Orlando Camp - October, dates TBA
If you're interested in one of these upcoming camps, please send me an email at training@scientificwrestling.com and let me know which one!
In closing, in the spirit of the season EVERYONE at Scientific Wrestling is incredibly grateful for your unwavering support of our efforts to share the greatest combat sport in the world; CATCH-AS-CATCH-CAN WRESTLING!! Happy Thanksgiving!!
Permalink
Digg this
Add to del.icio.us
Submit to Reddit
Technorati Profile