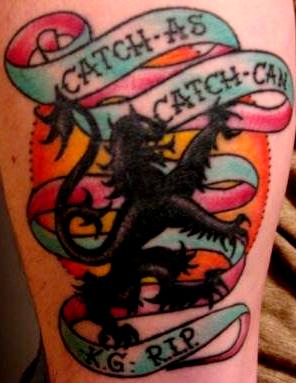 REAL Catch-As-Catch-Can: Adapt, Improvise, Commit...
rev·o·lu·tion: the procedure or course, as if in a circuit, back to a starting point.
Scientific Wrestling's mission is to ignite a revolution in grappling based on the pursuit of traditional Catch-As-Catch-Can wrestling and honesty, competition and camaraderie.
We want people practicing under the rules of Catch-As-Catch-Can wrestling in our clubs; players win via pin or submission, no points, where actual matches are contested as the best 2 of 3 falls. We know that this can be done almost anywhere. We've proven that the beach, the backyard, the garage, and the warehouse are as good places as any for creating dominate and competitive Scientific Wrestlers.
From the beginning, the Scientific Wrestling grassroots movement has provided an alternative to the prevailing grappling establishment and its signature "Brazilian jiu-jitsu" based/scholastic wrestling approach to grappling. We promoted the ethic and utility of the grappling club in large part to provide a home and refuge for our Catch-As-Catch-Can practitioners, which couldn't find quarter in established BJJ dojos or Freestyle/Greco-Roman wrestling clubs.
Our people are legitimate Scientific Wrestling practitioners united around competition, innovation, grueling physical conditioning and the sharing of reliable resources all underneath the Toe-Hold Club banner.
We are currently holding practices in New York, New Jersey, Salt Lake City, the Inland Empire, and more... Toe-Hold Clubs are convening in old warehouses, high school wrestling gyms, and martial arts dojos and we anticipate clubs to start elsewhere in basements, boxing gyms, universities, military bases, and elsewhere.
Toe Hold Clubs are started by REAL wrestlers (not phony tough guys that posture on the internet but spend little actual time on the mat wrestling). Those who really care about traditional Western Martial Arts, in particular Catch-As-Catch-Can, can now find a space, throw down some clean mats and invite their friends over to train.
HOW DO I GET STARTED?
First, get certified. Next, tell us what running a Toe-Hold Club means to you, why you want it, and what you want to achieve. It doesn't have to be fancy or overly serious, but it should be sincere.
Next, educate yourself and become a part of the Scientific Wrestling community. This can happen in many ways; join ScientificWrestling.com and post your questions and ideas to the private Message Boards, read the articles and the Scientific Wrestling Times newsletter, and make friends with (and visit, if possible) other Toe-Hold Clubs.
Scientific Wrestling Certification Reviews:
"Hey Jake, Just returned home from the audit. I can't believe how much stuff we covered this weekend! Billy really is a great coach and person. And you were a great asst coach ;-)

I wrestled at West Point and started at 190 lbs my first 3 yrs. Placed 5th and 6th in the eastern regionals (EIWA- Divison I). While I was in the Army I wrestled for the All-Army Wrestling Team and placed 2nd in the University Nationals '93 (greco- 220 lbs) and then placed 7th in the Senior Nationals '94 (Greco Roman All American- 220 lbs). Also placed 6th in the World Team Trials, Dec '95 (greco - 220).

...The way he broke down every move in minute detail was amazing. Thanks again for putting this together. I appreciate all your hard work. I look forward to attending the next audit.

- Alex Porcelli
"Jake, I just want to say thank you for your great class. Billy was amazing. He pointed out things that have never been brought to my attention. It was easy to understand and implement the adjustments into my style. What I enjoyed most, were the submissions and how they fit into my wrestling.

In my first grappling tournament, I followed the class instruction and used the double wrist lock that Billy taught to submit my opponent in my first championship match. Then, in my third place match, I used the cradle ankle crank. Both times, my opponents did not see these moves coming, and they both fit right into my natural style. I'm excited to master the other submissions taught.

Thanks again for your and Billy's instruction!"
- Jeramy Hunt-Loveless,
VETERANS FREESTYLE NATIONALS 2010 CHAMPION
"It was incredible, I really enjoyed myself. I learned a ton of new things. Catch-As-Catch-Can is a really full system and working with a master like Billy Robinson was incredible. I feel really privileged to have been a part of this program."
-Jacques Abellira
Former Marine
Hawai'i State Super-middleweight Kickboxing Champion
Chief Firearms and Defensive Tactics Instructor, City and County of Honolulu
Blackbelt in Kodokan Judo, Kyokushinkai-kan Karate, and Valencia LAMECO Eskrima
Instructor ranking in Krav Maga (Law Enforcement, Series I), US Navy Non-Lethal Weapons Instructor
"Thank you so much for the training all weekend. It was awesome, amazing, and it was like I got to experience training along with a history lesson. So cool!"
-Jesse Kristofferson
King of Catch Wrestling Western Qualifier Middleweight Champion
Student Instructor, USA Shooto Association
"I'm freaking sore in every muscle of my body after the Scientific Wrestling Audit this weekend! Thanks for putting it together!!! I learned a ton of usable stuff I've never seen before."
-John
"Kid Justice"
Fabbricatore
Toughman Boxing Champion (10-2)
3-1 MMA
Pro Wrestler
Federal Law Enforcement Officer
Certified Federal Physical Fitness
Coordinator
Certified Federal Defensive Tactics Instructor
Former Federal Law Enforcement Academy Instructor
"It was damn hard -- almost a right of passage! The two days of training was hard as hell, nonstop (except for some water breaks) and packed full of info. I came away feeling like all the things I learned up to that point had finally started to jell. It was a true immersion into the material. I recommend training for and participating in the audit for any serious grappler. I often find myself thinking 'why didn't I learn this years ago?'"
-Michael Long
Coach
International Guild of Danse de Rue Savate
"Thank you very much for the great weekend, I learned a lot of things and I really had a fun time with all you guys, I hope to be able to come back soon!!! You guys have really made me fall in love with catch-as-catch-can, and I can't wait to learn more and keep on learning! Thank you and all the other guys for making it such a wonderful experience for me, Take care!"
-Mike Raho
Vicenza, Italy
"Thank you so much for letting me be a part of history. It is an honor to be a part of the rich history of Scientific Wrestling. Having Dick Cardinal there was like capturing a piece of American history and meeting a legend all at the same time. What I loved about the audit is that you really have to know how to wrestle. There were no gimmicks, no tricks, no crazy moves that would never work. It was good, old fashioned, applicable wrestling. The submissions were fantastic. They all flow naturally off of technical wrestling and are easy to set up. Your diligence and respect of the past is amazing. You have created something special with Scientific Wrestling and I am proud to be a small part of it."
-Jesse Marez
Wrestling Coach, MLK High School
Black Belt Champion's Martial Arts
Certified Head Coach Western Combat Arts
"That was the greatest class I've ever had. Billy is awesome. His attention to detail is fantastic. I'm completely overwhelmed. I trained with top BJJ black belts for years and never had a class this good. Now, they are geniuses on the mat, but, many times the teaching skills are lacking. I actually had a problem teaching last night because I had so much information swimming in my head!
-Glenn Chang
Torrence, California
For more information on authentic Scientific Wrestling Certification, please follow this link.
Cost:
On acceptance of your application, we license use of the name "Toe-Hold Club" for a $350 annually renewable fee. Right now, we are waiving the annual few for those that successfully complete Level 1 of our Certified Catch Wrestler program. You may use the name to market your Scientific Wrestling training and classes.
Requirements:
1. We require at least one member of your Toe-Hold Club to become a Level 1 Certified Scientific Wrestler. We offer certification seminars a few times each year. Please check the certification page for more information regarding becoming certified.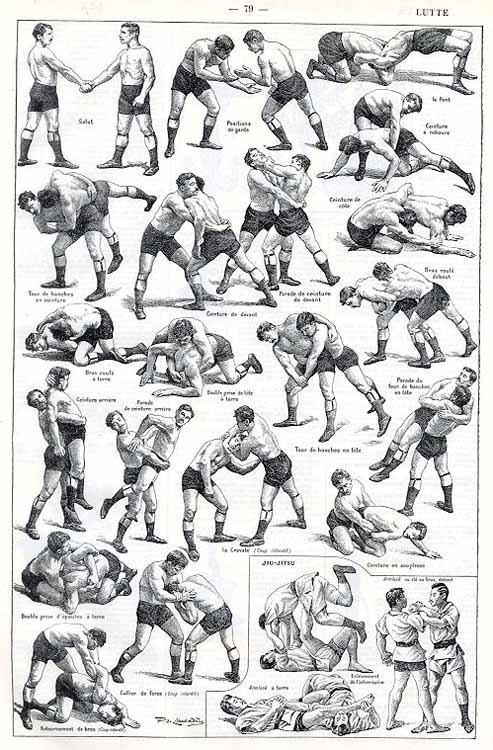 The ONLY Scientific Wrestling Certification program approved by REAL Scientific Wrestlers, administered by REAL Scientific Wrestlers, for the benefit of REAL Scientific Wrestling.
Click here to learn more...
2. All Toe-Hold Club members must have a website since this is our primary vehicle for promoting you; therefore, we expect you maintain a good site. Also, providing us with high-quality digital photos, video, and descriptions of your training and events will make it more likely that you will be featured on either the main site or the Official Scientific Wrestling Blog.

3. We require every Toe-Hold Club member website to display a Scientific Wrestling link on the front page of their site.


Benefits of Affiliating:
Once your application is approved and we receive your paperwork, we'll link to your website from the main page, the Official Scientific Wrestling blog, and the Toe-Hold Club page of ScientificWrestling.com (our main landing page averages 4,000 unique hits per month).
Read The Official Blog Now!
When you join, you can use the Toe-Hold Club name on your site, business cards, store front, t-shirts, etc., to promote your training. You will also have access to our exclusive online Certified Catch Wrestler private forum where you can cross-pollinate ideas with other club member owners (access is not allowed for anyone without certification). Here you'll be connected to all the other Toe-Hold Clubs and can tap their knowledge and experience to help you thrive.
We also have occasional conference calls to address common issues and opportunities, as well as seminars, special events and tournaments specifically for Toe-Hold Clubs.
You annual dues creates the collective bargaining power to fund high level Toe-Hold Club promotional efforts through expensive magazines, video, conferences, etc.
Once you have read through all the links and the FAQ, please don't hesitate to contact us with any questions about the program. You can reach the support team at training@scientificwrestling.com.
F.A.Q.
What is included in becoming a Toe-Hold Club?
1. Legal use of the Toe-Hold Club name, logo, and promotional materials.
2. Access to a private social network for licensees.
3. Promotion from the main site and blog page.
4. Support from HQ and the larger community through conference calls, seminars, and in-house business opportunities.

What is the cost?
As of September 1, 2008, affiliation costs $350 annually. But it is waived for those who successfully complete their first audit.
What is the process for becoming an affiliate?
See above
Do I need to be Scientific Wrestling certified?
Toe-Hold Club owners must obtain at least their Level 1 certification first.
Do I need a website?
Yes, you must have/create a website to host a Toe-Hold Club.
What are the requirements for an Toe-Hold Club website?
You must have this link to the ScientificWrestling.com on your home page.
If I purchased a URL does this mean I own that name?
You may own the domain, but Scientific Wrestling only acknowledges the URL of the name that you have licensed from us. If you own a URL containing a Toe-Hold Club name for which you have not been granted a license, it is useless to you. We seriously frown on folks "land grabbing" more names than the the one associated with their specific club and doing so may affect your acceptance into our program.
Do I need to own a MMA gym or strip mall dojo?
No. There is no "one" way of opening a Toe-Hold Club. Garages, basements, backyards, parks, high school gyms, etc. Just be safe and find a reliable place to practice!
What is the recommended equipment for starting out?
Whatever you can get your hands on but all you really need is a decent sized, clean mat or soft surface to grapple on. Remember, wrestling is a workman's sport, all you really need is another willing participant.
If I become a Toe-Hold Club, does this mean I can certify people to be Certified Scientific Wrestlers?
No. Only Scientific Wrestling can certify people. The only way to obtain a certification is to participate in one of our Certification Seminars.
Can there be more than one Toe-Hold Club in one town, city, state, neighborhood?
Yes although we will limit the number of clubs in any given area. Almost any town or city has enough people to support numerous prosperous Toe-Hold Clubs. It is our belief that the more Toe-Hold Clubs there are in one area, the more public awareness there will be of authentic Catch Wrestling and the better level of competition.
How do I market my Toe-Hold Club?
Be honest. Take care of your club members and genuinely care about their welfare and development.
What material from ScientificWrestling.com can I use on promotional items like t-shirts, my store front, my website, etc.? How can I use the name?
You can link to anything on the main public Scientific Wrestling site. You can use any material freely available on the site with proper attribution. You may not distribute any content from the Scientific Wrestling member site that is not already publicly available from the 'Free Resources' page or elsewhere on the site. At this point, you cannot sell our t-shirts, but you are encouraged to create your own t-shirts featuring your Toe-Hold Club name and creative slogans. Logos and/or slogans associated with Toe-Hold Club HQ or ScientificWrestling.com may not be used without prior permission from HQ. As an club owner, you can and should say that you use Scientific Wrestling methods, and that you're part of the extended Scientific Wrestling family, but you may not represent yourself directly or indirectly as a representative of ScientificWrestling.com, Toe-Hold Club HQ, or Scientific Wrestling.
If I do not want to run a Toe-Hold Club but I am a Scientific Wrestling certified, how can I use the name legally?
You can call yourself a Certified Catch Wrestler and verbally say you use Scientific Wrestling methods. You cannot use the Scientific Wrestling name, slogans, art work or photos in any business or promotional way unless you affiliate. This includes business cards and web sites. Toe-Hold Club licensing gives you the legal right to use the Toe-Hold Club name for business and/or promotional purposes.
How should I select a name for my gym?
Local names work best--i.e., L.A. Toe Hold Club as opposed to California Toe-Hold Club.
Can I set my own rates?
Yes.
What should I charge?
There is no set amount you need to charge. But remember you are offering a professional service and it deserves a professional rate. Take some time looking at other Toe-Hold Club websites to get a sense of how much folks are charging.
Do I need insurance?
Yes, in order to complete your application for your Toe-Hold Club you must fax us proof of insurance. You will need liability insurance and you will need to name Lion's Share Ventures, LLC., as an additional insured.
If I train in someone else's gym and the gym insures me, is this good enough?
Probably, but you must to name Lion's Share Ventures, LLC as an additional insured.
If I want to train people not for profit do I still have to apply for a Toe-Hold Club license?
Yes. By licensing the Toe-Hold Club name you are making it legal to use that name; whether you make money from your endeavors or not you still have to be granted a license.
If I am operating not for profit, does my fee get waived?
No.
What do you mean by high-quality digital photos?
Large, high resolution, clear (not grainy), sharp (not blurry), no date/time stamp.
Should I send in videos?
Yes! Upload them to YouTube and send us a link.
What are the guidelines for video submissions?
We're interested in all aspects of Scientific Wrestling, especially takedowns, pins, submissions, conditioning routines, and humorous pranks.
How can I get featured on the ScientificWrestling.com main page and/or blog page?
Send in good pics and videos and updates about the happenings at your gym.
Can I open a Toe-Hold Clubs outside the United States?
Yes.