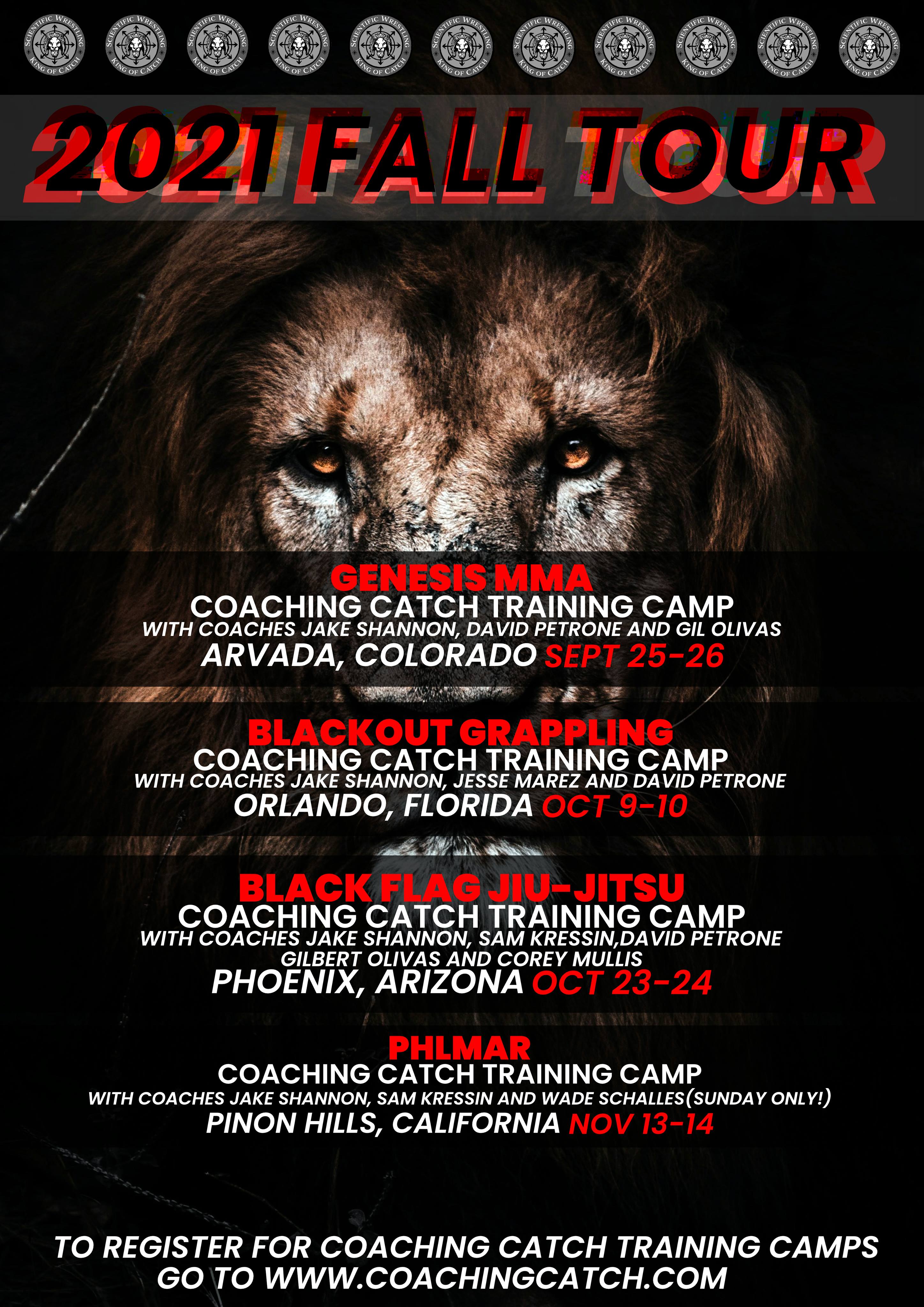 The BEST Training Camp
CERTIFIED CATCH WRESTLER TRAINING CAMP WINTER 2015

WHEN: February 6th, 7th & 8th, 2015
WHERE: San Diego, California



Registration: To register for Training Camp, click "Add to Cart" and submit the required information to secure your spot with a payment.

If you'd like to pay a deposit to secure your spot, email us for payment plan options.

For all other questions and concerns please feel free to email us at training@scientificwrestling.com.

Also, we promote you and/or your club as Scientific Wrestling Certified. We'll coordinate any and all Scientific Wrestling-related training requests within your territory and send them directly to you!



Registration Fees: While the cost of certification seminars progressively decreases, regardless of level (i.e., your first cert attendance is $1500, your second is $750, and subsequent ones are $375), these prices are not fixed and will increase over time.

STRICTLY LIMITED AVAILABILITY. FIRST COME, FIRST SERVED.

************************************************************


Learn the systematic approach to learning authentic Catch-As-Catch-Can techniques, pinning combinations, and submission chains. Scroll down for more information!


Upon completion, attendees will have sufficient understanding of Scientific Wrestling's methods, concepts, and movements to continue independent and successful development as an authentic Catch-As-Catch-Can Wrestling trainer and/or athlete.







PLEASE NOTE: We offer 15% group and military/LEO discounts.

************************************************************



Wrestling authorities and World Champion grapplers unequivocally agree:



"Wow, what a compilation. Terrific job. Jake your concept of certification regarding Catch Wrestling is a great idea."
-Dick Cardinal
Career Carnival Hook Wrestler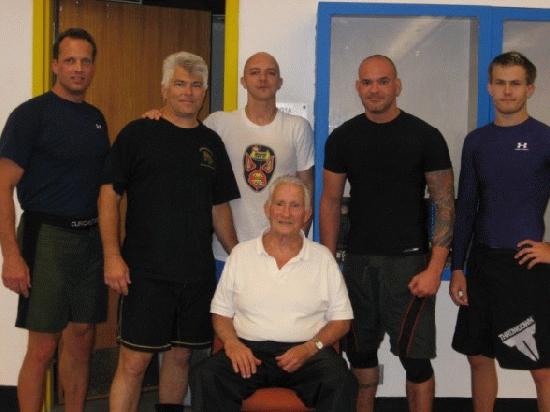 Southern California Audit run by American Shooter Dick Cardinal & Jake Shannon



"The Sport of Catch Wrestling: The Certified Catch Wrestler Handbook is a unique combination of historical information, a pictorial of authentic catch wrestling techniques, and a practical workbook. Jake is to be commended for his efforts to both preserve and spread catch-as-catch-can wrestling!"
-Mark S. Hewitt
Author of Catch Wrestling: A Wild and Wooly Look at the Early Days of Pro Wrestling in America


-


"Wow. Jake you're on a roll with this certification! I support you wholeheartedly my friend."
-Mark Schultz
World record holder for fastest rise to an Olympic Gold Medal, the only man on Earth that has won 3 NCAA Wrestling Titles, 2 World Wrestling Titles, an Olympic Title, AND UFC competition.


-


"Dear Jake,
What you have put together is wonderful! Very insightful. You will run a great clinic and be a success. I have never seen anything like this.

We old timers learned in small, dark, dirty gyms. Or at least I did. My teachers were Frank Wolf, Ben Sherman, Speedy Larance, Henry Kolhn, Jack Guy, Waino Ketonhen. Frank Wolf started teaching me at 10 years of age. I started boxing and wresting on At Shows at 16 years of age. Around 1943.

I am eighty now. I was a pro for over 43 years. Show biz, I had to learn all over again. I did it well. I worked on top all over. 5 ft 9, weight 185. I was a wrestler, fighter, and a Wild Bull rider.

Keep Punching Pal!"

Your friend,
Frankie Cain
Respected Shooter and legendary Professional Wrestler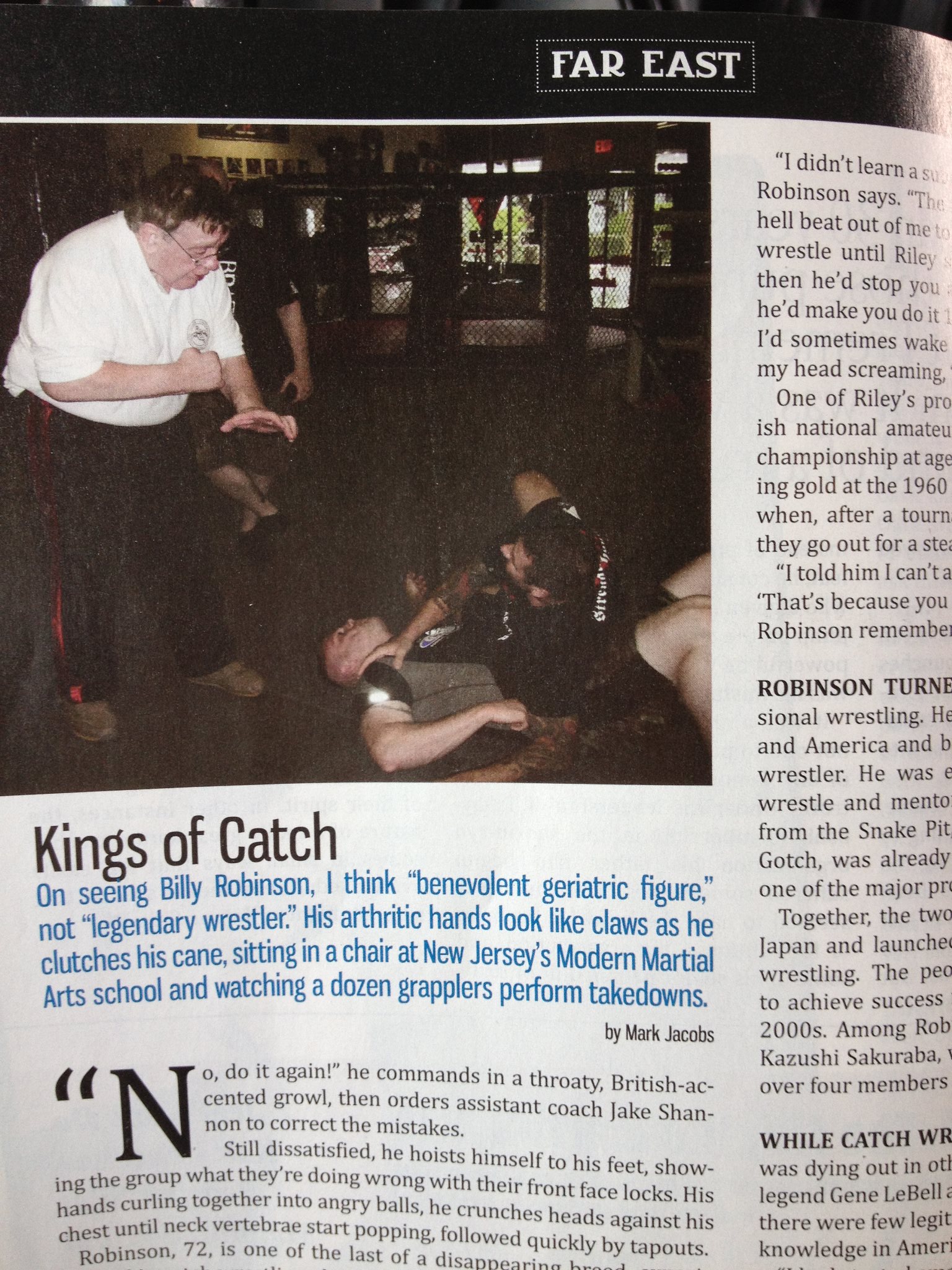 Our HIGHLY ACCLAIMED and very affordable training camp (featured here in the October 2012 issue of Blackbelt Magazine) is designed to give you basic competency in authentic Catch-As-Catch-Can (takedowns, submissions, pins, escapes, reversals, etc.) wrestling.
Scientific Wrestling Certification Reviews:
"Hey Jake, Just returned home from the audit. I can't believe how much stuff we covered this weekend! Billy really is a great coach and person. And you were a great asst coach ;-)

I wrestled at West Point and started at 190 lbs my first 3 yrs. Placed 5th and 6th in the eastern regionals (EIWA- Divison I). While I was in the Army I wrestled for the All-Army Wrestling Team and placed 2nd in the University Nationals '93 (greco- 220 lbs) and then placed 7th in the Senior Nationals '94 (Greco Roman All American- 220 lbs). Also placed 6th in the World Team Trials, Dec '95 (greco - 220).

...The way he broke down every move in minute detail was amazing. Thanks again for putting this together. I appreciate all your hard work. I look forward to attending the next audit.

- Alex Porcelli
"Jake, I just want to say thank you for your great class. Billy was amazing. He pointed out things that have never been brought to my attention. It was easy to understand and implement the adjustments into my style. What I enjoyed most, were the submissions and how they fit into my wrestling.

In my first grappling tournament, I followed the class instruction and used the double wrist lock that Billy taught to submit my opponent in my first championship match. Then, in my third place match, I used the cradle ankle crank. Both times, my opponents did not see these moves coming, and they both fit right into my natural style. I'm excited to master the other submissions taught.

Thanks again for your and Billy's instruction!"
- Jeramy Hunt-Loveless,
VETERANS FREESTYLE NATIONALS 2010 CHAMPION
"It was incredible, I really enjoyed myself. I learned a ton of new things. Catch-As-Catch-Can is a really full system and working with a master like Billy Robinson was incredible. I feel really privileged to have been a part of this program."
-Jacques Abellira
Former Marine
Hawai'i State Super-middleweight Kickboxing Champion
Chief Firearms and Defensive Tactics Instructor, City and County of Honolulu
Blackbelt in Kodokan Judo, Kyokushinkai-kan Karate, and Valencia LAMECO Eskrima
Instructor ranking in Krav Maga (Law Enforcement, Series I), US Navy Non-Lethal Weapons Instructor
"Thank you so much for the training all weekend. It was awesome, amazing, and it was like I got to experience training along with a history lesson. So cool!"
-Jesse Kristofferson
King of Catch Wrestling Western Qualifier Middleweight Champion
Student Instructor, USA Shooto Association
"I'm freaking sore in every muscle of my body after the Scientific Wrestling Audit this weekend! Thanks for putting it together!!! I learned a ton of usable stuff I've never seen before."
-John
"Kid Justice"
Fabbricatore
Toughman Boxing Champion (10-2)
3-1 MMA
Pro Wrestler
Federal Law Enforcement Officer
Certified Federal Physical Fitness
Coordinator
Certified Federal Defensive Tactics Instructor
Former Federal Law Enforcement Academy Instructor
"It was damn hard -- almost a right of passage! The two days of training was hard as hell, nonstop (except for some water breaks) and packed full of info. I came away feeling like all the things I learned up to that point had finally started to jell. It was a true immersion into the material. I recommend training for and participating in the audit for any serious grappler. I often find myself thinking 'why didn't I learn this years ago?'"
-Michael Long
Coach
International Guild of Danse de Rue Savate
"Thank you very much for the great weekend, I learned a lot of things and I really had a fun time with all you guys, I hope to be able to come back soon!!! You guys have really made me fall in love with catch-as-catch-can, and I can't wait to learn more and keep on learning! Thank you and all the other guys for making it such a wonderful experience for me, Take care!"
-Mike Raho
Vicenza, Italy
"Thank you so much for letting me be a part of history. It is an honor to be a part of the rich history of Scientific Wrestling. Having Dick Cardinal there was like capturing a piece of American history and meeting a legend all at the same time. What I loved about the audit is that you really have to know how to wrestle. There were no gimmicks, no tricks, no crazy moves that would never work. It was good, old fashioned, applicable wrestling. The submissions were fantastic. They all flow naturally off of technical wrestling and are easy to set up. Your diligence and respect of the past is amazing. You have created something special with Scientific Wrestling and I am proud to be a small part of it."
-Jesse Marez
Wrestling Coach, MLK High School
Black Belt Champion's Martial Arts
Certified Head Coach Western Combat Arts
"That was the greatest class I've ever had. Billy is awesome. His attention to detail is fantastic. I'm completely overwhelmed. I trained with top BJJ black belts for years and never had a class this good. Now, they are geniuses on the mat, but, many times the teaching skills are lacking. I actually had a problem teaching last night because I had so much information swimming in my head!
-Glenn Chang
Torrence, California
For more information on authentic Scientific Wrestling Certification, please follow this link.
PLEASE NOTE:
We don't want you to make up your mind to sign up for the Certified Scientific Wrestler Audit until you ABSOLUTELY feel certain that this is right for you. Our team will be helping you out hands-on during the certification and afterwards online. Please don't hesitate to ask any questions via email at training@scientificwrestling.com.
-All applicants must be 18 years old and in good health to apply.
-We reserve the right to refuse any application.
-Registration fees are non-refundable and non-transferable.
-In the case of unforeseen cancellations, paid registration fees will be applied to future training camps.
-Scientific Wrestling Online members save an automatic 10% off registration (and all candidates that are not members will receive free membership to Scientific Wrestling Online.

************************************************************
HEAD COACHES
Wade Schalles
Billy Robinson (RIP)
Dick Cardinal


ASST. COACHES

Jake Shannon, Salt Lake City, UT
Sam Kressin, La Jolla, CA
Ricky Lazaro, Sacramento
Alex Cook, United Kingdom
Luis Ojeda, Chula Vista CA John Potenza, New Jersey
Harry Smith, Florida
Jesse Marez, Inland Empire, CA



LEVEL 3 Scientific Wrestlers

Alex Porcelli, New York
Brandon McCleese, Kentucky
Joel Bane, New Jersey
Ian Sirois, Boston
Garry Davis, New Jersey
Mickey Hall, New Jersey
Gillian Silver, New Jersey
Jez Ritchie, Northumberland UK
Monty Hendrix, North Carolina
Mike Raho, Italy
Raul Ramirez, Los Angeles


LEVEL 2 Scientific Wrestlers

Jeramy Hunt-Loveless, Utah
Martin "Oz" Austwick, Surrey UK
Tony Altermatt, Minnesota
Glenn Boodry, Idaho
Andy Crittenden, Doncaster UK
Eric David, Kentucky
Padriac Gavin, Illinois
Shawn King, San Diego
Brandon Kiser, Utah
Kirill Kocheshkov, Utah
Robert Le Dentu, Maryland
John C.S. Lehman, New York
Michael Long, California
Edward Makarus, Alberta, CA
Dana McLorn, Oxnard, CA
Florian Neuber, Ludwigshafen DE
Jason Phillips, Texas
Timo Seel, Ludwigshafen DE
Joe Shay, Ohio
Tom Sullivan, New York
Brian Yamasaki, Utah
Qin Yunquan, Singapore

LEVEL 1 Scientific Wrestlers

Shayna Baszler, South Dakota
Victor Henry, Orange County, CA
Barry Danielian, New Jersey
Jesse Kristofferson, California
Jody Kristofferson, California
Rashid Abdul-Salaam, Florida
Jacques Abellira, Hawaii
Kaiwi Amina, Oregon
Michael Bann, Salem OR
Billy Burns, North Carolina
David Brown, Seattle
Cliff Byerly, San Antonio, TX
Matt Cavilee, Salem, OR
Glenn Chang, Southern California
Moushaid Choudhury, Michigan
Doug Cota, New York
Chris Cruz, Texas
Thomas Doty, Colorado
John Fabbricatore, Colorado
AJ Fales: North Carolina
Amel Figueroa, New Jersey
Gary Fitzpatrick, Las Vegas
Chris Foran, London UK
Todd Franks, Illinois
Jack Gallagher, Manchester, UK
Paul Genualdo, Texas
Jim Grantonic, Long Beach, CA
J. Grooms, Kentucky
Rob Hannis, Leicester UK
Ryan Jeschke, California
Brandon Johnson, North Carolina
Brian Johnson, North Carolina
Stefan Johnson, Doncaster UK
Dan Kanagie, Pennsylvania
Tanwir Kazimi, Hertfordshire UK
Michael Keys, Sheffield UK
Ibrar Khan, Wakefield UK
Nathan Leverton, Leicester UK
Alan Livelsberger, Pennsylvania
Bobby Luffman, Tennessee
Matt Lumsden, Australia
Luke Mannion, Dorset UK
Kolbjorn Martens, Thailand
Scott Matthews, Liverpool UK
Dewayne McCue, Fresno CA
Tim Moura, Sacramento, CA
Brian Moody, Visalia CA
Ana Murcia, California
John Napier, Michigan
Philip O'Connor, Liverpool UK
Bryan Parker, Conneticut
Victor Parlati, Virginia Beach
Travis Patton, Alabama
Jason Perna, New York
Matt Porath, Florida
Don Powers, Orangeville, IL
Mark Randall, UK
Harold Reddick, Philadelphia, Pa
Manny Reyes, Sr., Chicago
Griffen Reynaud, Utah
Jose Rodrigues, IL
Bryan Roig, AZ
Ivan Rolls, Liverpool UK
Joshua Ryer, Pennsylvania
Colleen Schneider, Los Angeles CA
Duran Sheets, Kentucky
Sam Sheets, Kentucky
Laura Shipley, Liverpool UK
Derek Sierra, Virginia
Robert C. Tessier, San Diego
James Thompson, UK
Cary Tope-McKay, Malibu
Burlay Toukam, Michigan
Chris Winget, TN
Reggie Wong, Hong Kong
Ryo Yagashita, Auckland NZ

************************************************************
Billy Robinson & Jake Shannon coaching at the Salt Lake City Toe-Hold Club