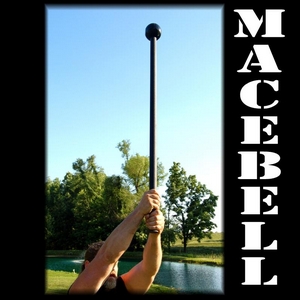 The 5 kg Macebell
Specifically designed for Scientific Wrestling by the wizards at Torque Athletic, the 5 kilogram Macebell will push you like you've never been pushed before.
Strengthen your grip, shoulder girdle, balance, and core all in one workout by swinging this "old school" marvel of modern strength & conditioning engineering.
The Macebell is solid steel and encapsulated in a durable Urethane (to help protect from potential impacts) the steel handle is given a premium crinkle black powder coat, this durable implement will challenge you for a lifetime.
Price: $159.50
Shipping: $21
Total: $180.50

NOTE ON SHIPPING: DHL pricing is representative of shipments within the continental United States.
We do ship overseas and outside the continental United States, however, blanket pricing for this is not available due to the expense changes from place to place.
Any orders requiring shipment outside the Continental United States will be handled on an individual basis so PLEASE email us before ordering.
Each order we receive with these requirements will be priced and submitted to you for customer acceptance prior to shipment.