Scientific Wrestling's Coaching Catch™ Certification
Learn time-tested wrestling-based set-ups, transitions, submissions, counters, and re-counters and help us re-build the Western combat sport of catch-as-catch-can wrestling which continues to inspire innovation in modern grappling.

Register for the next Coaching Catch camp now below!


"With catch-as-catch-can wrestling, the major thing is to learn how to learn. Once you get that, once your coach, like Jake or myself or some other old-timer has got into your mind how you can learn, you never stop learning. I'm learning now because, with these mixed martial arts, there are different situations, so I see it, and then it doesn't take long to figure out how to counter it. I'm learning it because I never came across that situation. But because I've learned how to learn, I have no problem with it or teaching someone how to beat it."
-Billy Robinson, Say Uncle! P. 29-30
---
The Scientific Wrestling Coaching Catch™ (CCACC) Certification

Learn to learn with the highly-acclaimed certification program that launched so many successful CACC groups, the ONLY program of it's kind co-developed by legendary CACC coach Billy Robinson! The purpose of the CCACC program is to strengthen your understanding of CACC and to share with you some basic skills needed to successfully coach competitive catch-as-catch-can wrestlers. Our method relies primarily upon practical, hands-on coaching heuristics designed to accelerate integration and retention. We focus on CACC concepts, fundamentals, techniques, skills, and programming.



Whether you decide to actually coach CACC or not, this certification program will certainly deepen your knowledge of CACC and allow you to share the amazing physical, mental, and spiritual benefits of this sport with the world. But first, as Billy Robinson was so found of saying, "You must learn how to learn."



"These days, almost everybody's coming into combat sports through the Japanese style of learning, with the belt system. That's what is great about Jake's and my idea about the certification. It wouldn't have been necessary in the old days, but it's necessary now. It helps create an interest among all those people who want to come to a seminar and get a certificate, so we can actually teach them the old catch-as-catch-can way - to learn how to learn. And I can't blame them for wanting to have their names noted as part of the history of catch-as-catch-can."
-Billy Robinson, Physical Chess, p. 139-140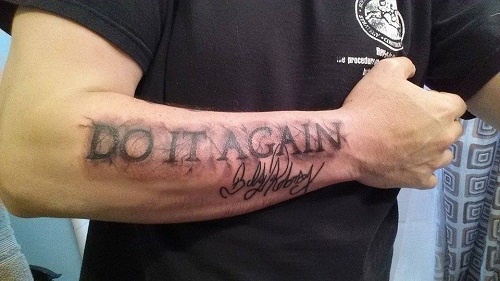 Coach Billy Robinson was fiercely loyal to Scientific Wrestling, and we're fiercely faithful to what he taught us!
The Scientific Wrestling CCACC Program requires the ability to
"Do It Again"
; i.e., to meet curriculum performance benchmarks during evaluations after earning the minimum hours of verified training at both Scientific Wrestling CCACC Camps Training Camps.
Upon the completion of 250 units (and
Scientific Wrestling
approval) participants will earn the
Assistant Coach
designation.
After 500 units, participants will have earned Scientific Wrestling's full Coach credential.
Each 2-day camp counts for 25 units toward the total requirement (so after 10 completed camps and approval you will earn Asst. Coach designation, after 20 you earn Full Coach).


You must attend at least one CCACC training camp per year to maintain perishable skills and validation. All participants must be 18 years or older, be in generally good health, and agree to hold themselves solely responsible for any and all injuries sustained while learning CACC or partaking in the CCACC program. As a CCACC candidate it will be expected that both you and your athletes are respectful, punctual, and hygienic with regards to any and all grappling related activities. Also, as a participant in the CCACC you will be expected to be an attentive and active student/coach, to communicate openly, to attend all relevant trainings, to learn the given material, and to practice more often than you don't. Other than that, there are no other requirements beyond paying your dues and putting in the work.


In the past, the only way to earn units was to attend camps. However, Covid19 has allowed me the chance to improve our certification process. In addition to earning units toward certification via camp attendence, the following are transferable toward certification:
1. If you have competitive experience, you now can earn 10 units/competition in which you've medaled (max. 100 units).
2. 25 units for each CACC ruled tournament you've hosted (max. 50 units).
3. Conditioning elective: 25 units when you document yourself completing both the Gotch Bible AND 500 hindu squats, 250 hindu push-ups, hold 3 minute bridge (bridging can be substituted by 30 wall walks).
4. 12.5 units for technique "dissertation" (can be a book or instructional video) that significantly contributes to the field of CACC as determined by a panel of existing Scientific Wrestling Coaches (max 25 units).
5. 12.5 for achieving an 80% pass rate on the written exam based upon
Say Uncle!
,
Physical Chess
, and the materials found at both
The Fighting Library
and
Scientific Wrestling
.
6. 25 units for passing a technique audit based upon
Catch Wrestling Takedowns
,
Catch Wrestling Submissions
, and
The Nelson Family
instructionals.
7. 12.5 units for completion of the material over at
WAR Catch Wrestling
.



CACC Coaching Best Practices


Rule Set Variations


Conditioning Drills


Principles of Wrestling Scientifically


CACC Concepts, Techniques, and Pinning/Submission Combinations


Reverse Terminal Takedown Chains


Punishing Rides


Defense, escapes, and reversals


Hand fighting


CACC finishing holds (neck cranks, strangles, leglocks, wristlocks, etc)


…and so much more!






Enrollment in the only with a curriculum co-developed by the legendary Billy Robinson.


Certification and listing on the CoachingCatch.com site upon completion.


Lifetime access to the streaming library at ScientificWrestling.com (value: $$$ thousands)


Catch-As-Catch-Can: The Sport of Professional Wrestling digital handbook/fieldguide


The The Fighting Library with over 3,050 pages of the best material on classic Western martial arts


Exclusive, limited-edition Scientific Wrestling Tee Shirt (choose one, $24.95 value):







(note: not all staff will be present at all trainings)
Scientific Wrestling Coach (ranked by Billy Robinson and Jake Shannon)


2nd Degree Black Belt Brazilian Jiu-Jitsu


2008 Gold North American Championships NABJJF


2008 Bronze IBJJF PAN AMERICAN Championships


2007 Bronze OTM AMERICAN INTERNATIONAL CHAMPIONSHIPS


2006 Silver OTM US Open Championships


2005 Silver NAGA West coast Championships


2002 Gold NAGA HAWAIIN STATE CHAMPIONSHIPS


2001 Gold Hawaiian BJJ Championships



Scientific Wrestling Coach (ranked by Billy Robinson, Dick Cardinal, and Jake Shannon)


Black Belt in Brazilian Jiu Jitsu under Peter Sutton


2010 Gold San Diego Grappling X Championships, Gi, Gold.


2010 Gold and Bronze NABJJF North American Championships Gi & No Gi


2011 Gold & Silver NABJJF Los International


2011 Gold Fabricio Werdum Pro Samurai Jiu Jitsu Tournment: Gi


2013 Gold SJJIF Worlds Tournament


Scientific Wrestling Coach (ranked by Billy Robinson and Jake Shannon)


2009 SoCal Freestyle Wrestling Champion


2007 & 2012 King of Catch Wrestling- Qualifier Heavyweight Champ


Full Bred Pankration Heavy Champ


2007 Southwest Regional Grappling Heavy Champ (USA Wrestling)


2006 WAMAI (World Amateur Martial Arts International) Pankration Light Heavy Champ


16-0 in Sambo (AAU) 2 X Baja California Judo State Champ


NCAA DII Wrestler


Pat Shaw Memorial [(Gold) Freestyle Division, Guatemala] Silver in El Salvador (Tri meet- USA,Cuba, El Salvador)


North American Catch Wrestling Association Heavyweight champ



Scientific Wrestling Coach (ranked by Jake Shannon and Sam Kressin)


CEO/Founder - SwiftKick Martial Arts


BJJ brown belt under Sam Kressin


Black Belt in Tae Kwon Do


Certified Red Zone Knife Defense Coach under Jerry Wetzel



Scientific Wrestling Assistant Coach (ranked by Jake Shannon)


2nd degree BJJ Black Belt (ranked by Sam Kressin)


Judo Black Belt


Submission Arts Wrestling (SAW) Black Belt


World Submission Wrestling Federation: Certified Catch Wrestling Coach


United States Marine Corps Veteran


Founder & Owner: Black Flag Jiu Jitsu Club in Arizona


2019 West Valley Rumble Sub Only Superfight winner


2019 Grappling X San Diego Silver Medalist


2018 NABJJF Grand Canyon Open Silver Medalist


2018 Old Pueblo Jiu Jitsu Open Bronze Medalist


2017 American Grappling Federation New Mexico Gold Medalist


2017 NABJJF Los Angeles International 2x Silver Medalist


2016 NABJJF Nationals Silver Medalist


2016 NABJJF North American Brazilian Jiu Jitsu Tournament Gold & Silver Medalist


2016 NABJJF Grand Canyon State Silver Medalist


2014 & 2013 NAGA Phoenix Silver Medalist


Scientific Wrestling Coach (ranked by Billy Robinson and Jake Shannon)


Wrestling coach for UFC Gym -- Sacramento for 7 years


Active Law Enforcement Officer



Scientific Wrestling Coach (ranked by Billy Robinson and Jake Shannon)


Former competitive mixed martial artist (Unlicensed boxing 4 -- 0, MMA record 9 -- 7)



Scientific Wrestling Coach (ranked by Billy Robinson and Jake Shannon)


2018 Billy Robinson Classic Tournament Heavyweight Champ


2016 NAGA Expert Super Heavyweight Champ


Active Professional Wrestler for New Japan Pro Wrestling and fmr. WWE Superstar


Scientific Wrestling Assistant Coach (ranked by Jake Shannon and Billy Robinson)


Active Professional Wrestler since 2002


Pioneer of Professional Wrestling in Italy


Italian Championship Wrestling Hall of Fame

Scientific Wrestling Assistant Coach (ranked by Jake Shannon)


Abu Dahbi Pro Gold Heavyweight Division


Abu Dahbi Pro Absoulte Division Bronze


NAGA Expert Division Champion


NABJJF National Champion


2-1 Record in Fight 2 Win pro


Undefeated in Submission Underground


AGF 4 Time Gold Medalist


Veteran of WSOF Submission 1


Black Belt in Brazilian Jiujitsu



Scientific Wrestling Assistant Coach (ranked by Jake Shannon)


Brazilian Jiu-Jitsu Black Belt


IBJJF No-Gi World Champion


IBJJF 2x Pan Am No-Gi Champion


IBJJF 5x Gi International Open Gold Medalist


*NOTE: This is the registration price for your introductory camp. Each subsequent coaches camp is just $275.
**Please note, in the case of unforeseen training camp cancellations all registration fees will be refunded (we are not responsible for flight, hotels, and other expenses).