The Undisputed Best Instruction in Wrestling for Martial Artists!
rev·o·lu·tion: the procedure or course, as if in a circuit, back to a starting point.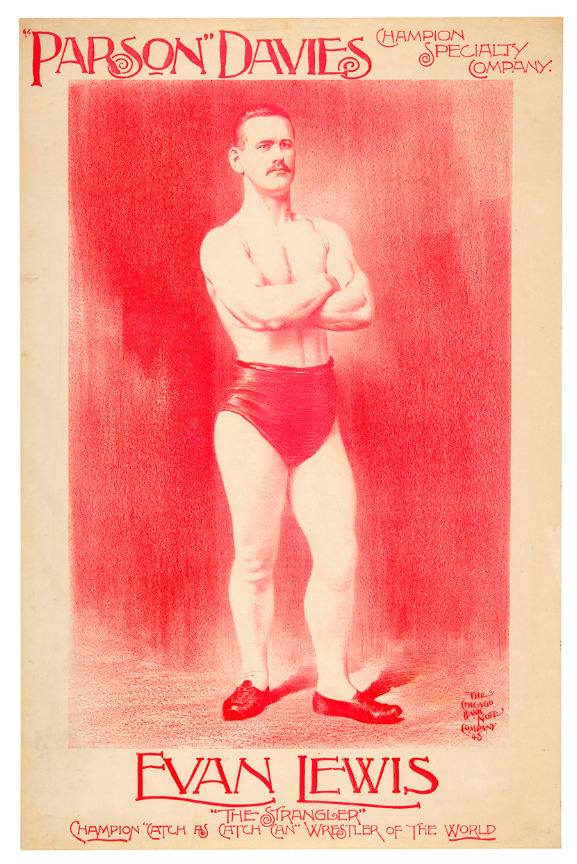 America's First Catch-As-Catch-Can Champion, the feared Evan "The Strangler" Lewis.
Since 2003, Scientific Wrestling has provided martial artists and athletes with the very best wrestling instruction, especially with regards brutal submissions, crushing cradles, painful pins and terminal takedowns (i.e., catch-as-catch-can wrestling).
We are the biggest and first grappling organization of our kind to provide undisputed top-of-the-food-chain coaching, competition and camaraderie for martial arts athletes from all backgrounds. We live and breathe the entirety of Catch-As-Catch-Can wrestling (from its rough & tumble origins to its evolution into modern "freestyle"). In our tournaments and in our clubs, players win via pin or submission, no points, where actual matches are contested as the best 2 of 3 falls.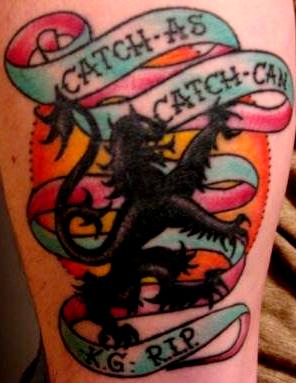 NEXT Training Camp with LEGENDARY Champion (and coach of champions) Head Coach Wade Schalles - SAN DIEGO, CA - February 6th - 8th, 2014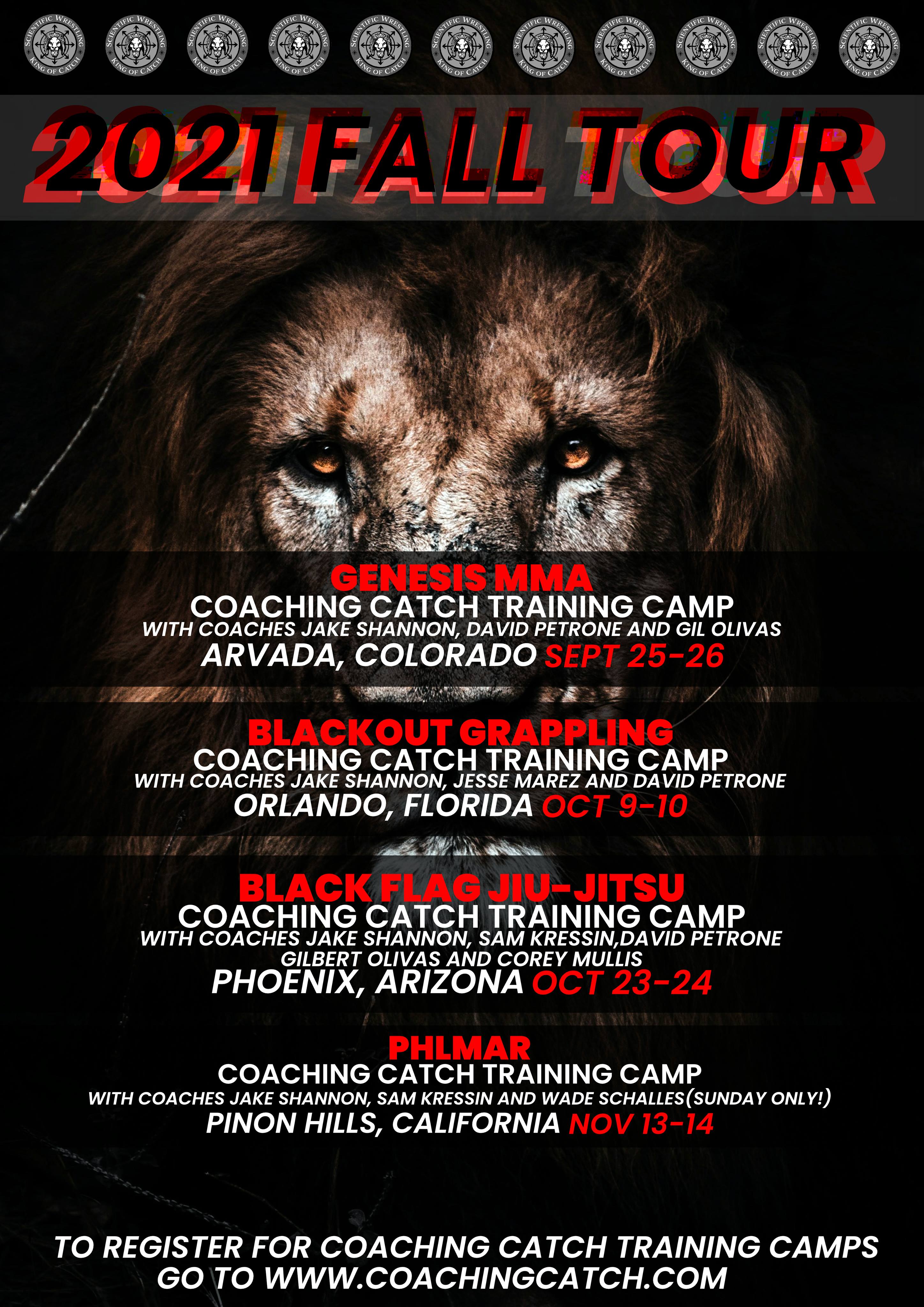 Click Here To Learn More!
At Scientific Wrestling we pride ourselves with working with only the very best. We are incredibly proud to say that our dear friend and mentor, the inimitable Billy Robinson, made the deliberate decision to make Scientific Wrestling his wrestling home for the last seven years of his amazing life. Please take a moment to join our memorial page for Coach Billy.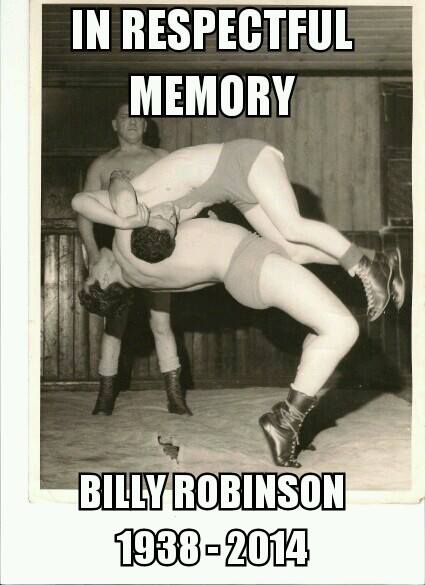 Please Visit Our Billy Robinson Memorial Page
We are also blessed and excited to welcome our new Head Coach Wade Schalles to our team. Just in case you've been living in a cave, Coach Schalles has held the Guinness World Record for Most Pins (530) and Most Wins (821) in all of wrestling. He's had an unparalleled career as both athlete and coach and we are proud to say he's been with Scientific Wrestling since our very inception. During his competitive days, Sports Illustrated said of Mr. Schalles, "the most exciting wrestler to ever walk onto a wrestling mat!". Dan Gable has called him "the greatest pinner he's ever seen!". Gable said, "I've never seen anyone so unorthodox who is so good. You never know what Wade will do next."
In the course of his career Wade defeated 36 national champions (pinning an AMAZING 17 of them) as well as defeating 8 World titlists (each total is considered a record). He earned a 9th degree black belt in Sambo (this is when he was on the Sambo World Team, when FILA awarded such ranks) and a 4th degree black belt in Judo as well. If you want to win, you want to train with the proven best; Scientific Wrestling.
************************************************************
HEAD COACHES
Wade Schalles
Billy Robinson (RIP)
Dick Cardinal


ASST. COACHES

Jake Shannon, Salt Lake City, UT
Sam Kressin, La Jolla, CA
Ricky Lazaro, Sacramento
Alex Cook, United Kingdom
Luis Ojeda, Chula Vista CA John Potenza, New Jersey
Harry Smith, Florida
Jesse Marez, Inland Empire, CA



LEVEL 3 Scientific Wrestlers

Alex Porcelli, New York
Brandon McCleese, Kentucky
Joel Bane, New Jersey
Ian Sirois, Boston
Garry Davis, New Jersey
Mickey Hall, New Jersey
Gillian Silver, New Jersey
Jez Ritchie, Northumberland UK
Monty Hendrix, North Carolina
Mike Raho, Italy
Raul Ramirez, Los Angeles


LEVEL 2 Scientific Wrestlers

Jeramy Hunt-Loveless, Utah
Martin "Oz" Austwick, Surrey UK
Tony Altermatt, Minnesota
Glenn Boodry, Idaho
Andy Crittenden, Doncaster UK
Eric David, Kentucky
Padriac Gavin, Illinois
Shawn King, San Diego
Brandon Kiser, Utah
Kirill Kocheshkov, Utah
Robert Le Dentu, Maryland
John C.S. Lehman, New York
Michael Long, California
Edward Makarus, Alberta, CA
Dana McLorn, Oxnard, CA
Florian Neuber, Ludwigshafen DE
Jason Phillips, Texas
Timo Seel, Ludwigshafen DE
Joe Shay, Ohio
Tom Sullivan, New York
Brian Yamasaki, Utah
Qin Yunquan, Singapore

LEVEL 1 Scientific Wrestlers

Shayna Baszler, South Dakota
Victor Henry, Orange County, CA
Barry Danielian, New Jersey
Jesse Kristofferson, California
Jody Kristofferson, California
Rashid Abdul-Salaam, Florida
Jacques Abellira, Hawaii
Kaiwi Amina, Oregon
Michael Bann, Salem OR
Billy Burns, North Carolina
David Brown, Seattle
Cliff Byerly, San Antonio, TX
Matt Cavilee, Salem, OR
Glenn Chang, Southern California
Moushaid Choudhury, Michigan
Doug Cota, New York
Chris Cruz, Texas
Thomas Doty, Colorado
John Fabbricatore, Colorado
AJ Fales: North Carolina
Amel Figueroa, New Jersey
Gary Fitzpatrick, Las Vegas
Chris Foran, London UK
Todd Franks, Illinois
Jack Gallagher, Manchester, UK
Paul Genualdo, Texas
Jim Grantonic, Long Beach, CA
J. Grooms, Kentucky
Rob Hannis, Leicester UK
Ryan Jeschke, California
Brandon Johnson, North Carolina
Brian Johnson, North Carolina
Stefan Johnson, Doncaster UK
Dan Kanagie, Pennsylvania
Tanwir Kazimi, Hertfordshire UK
Michael Keys, Sheffield UK
Ibrar Khan, Wakefield UK
Nathan Leverton, Leicester UK
Alan Livelsberger, Pennsylvania
Bobby Luffman, Tennessee
Matt Lumsden, Australia
Luke Mannion, Dorset UK
Kolbjorn Martens, Thailand
Scott Matthews, Liverpool UK
Dewayne McCue, Fresno CA
Tim Moura, Sacramento, CA
Brian Moody, Visalia CA
Ana Murcia, California
John Napier, Michigan
Philip O'Connor, Liverpool UK
Bryan Parker, Conneticut
Victor Parlati, Virginia Beach
Travis Patton, Alabama
Jason Perna, New York
Matt Porath, Florida
Don Powers, Orangeville, IL
Mark Randall, UK
Harold Reddick, Philadelphia, Pa
Manny Reyes, Sr., Chicago
Griffen Reynaud, Utah
Jose Rodrigues, IL
Bryan Roig, AZ
Ivan Rolls, Liverpool UK
Joshua Ryer, Pennsylvania
Colleen Schneider, Los Angeles CA
Duran Sheets, Kentucky
Sam Sheets, Kentucky
Laura Shipley, Liverpool UK
Derek Sierra, Virginia
Robert C. Tessier, San Diego
James Thompson, UK
Cary Tope-McKay, Malibu
Burlay Toukam, Michigan
Chris Winget, TN
Reggie Wong, Hong Kong
Ryo Yagashita, Auckland NZ

************************************************************
REBIRTH - Today's Scientific Wrestling Renaissance:
Western-style submission grappling is not new. Likely originating in Ireland and first recorded and popularized in the Lancashire county of England, catch-as-catch-can wrestling was by far the most popular American sport during the post-Civil War period up until just before World War I. Wrestling events drew crowds larger than boxing, baseball, and basketball combined!
These men knew how to control their opponents, they knew how to take them down, they knew how to pin their opponent and how to make their opponents say "Uncle". Bear in mind they didn't wrestle on cushy pads or mats, they grappled on hard floors and grassy fields (this is the reason they did NOT like being on their backs. Try playing bottom game on the asphalt and you too will see why they hated being in that position) after a hard day working a grueling blue-collar job.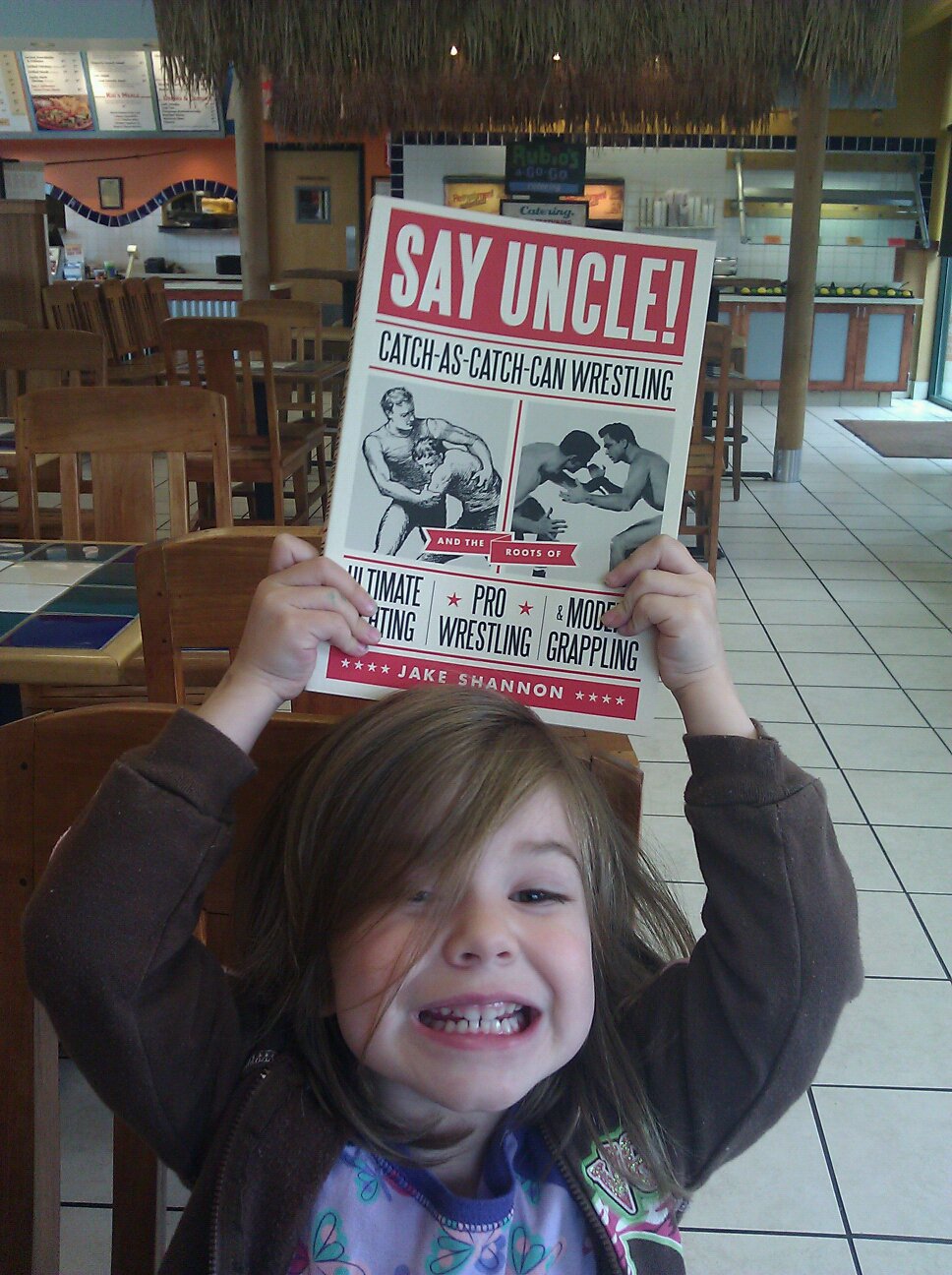 Two Things I Am Very Proud Of: My Daughter and my Amazon.com Best-Selling Book "SAY UNCLE!"
What is Scientific Wrestling?
Scientific Wrestling (aka Catch-As-Catch-Can wrestling) is a distinctly American and Western European style of grappling and where the terms of the contest were agreed upon by both parties but in general a winner is determined by pin OR submission. No points, no politics, and most matches are held for the best 2 of 3. A true spectacular martial art, Scientific Wrestling is being rediscovered due to it's merits as a:
- Exciting Spectator Sport
- Means to Exceptional Fitness & Sportsmanship
- A Gateway to Western Combatives History and Traditions
- A Brutally Effective Form of Self-Defense

As a result, such scientific wrestling is sometimes referred to as the "Great Granddaddy" of Cage Fighting, Pro-Wrestling, and Olympic Freestyle Wrestling. In fact, the term "No-Holds-Barred" was specifically coined to describe early 20th century American Catch-As-Catch-Can Wrestling matches and Olympic Freestyle was originally called "amateur catch-as-catch-can".
Influence Upon Folkstyle & Olympics Freestyle Wrestling
Just as Jigoro Kano removed the dangerous maneuvers from jiu-jitsu to create the safer sport of Judo, so were the more dangerous holds and submissions of Catch removed to allow people to safely participate in wrestling. Hence "Amateur" or freestyle wrestling was born.

Influence Upon Pro-wrestling
The legitimate contests became "worked" or fixed when greedy promoters decided that scripted matches with predetermined outcomes were more profitable than the legitimate Catch-As-Catch-Can contests. Outraged journalist learned of the fixed fights and this betrayal of the public's trust sadly spelled the end of authentic scientific wrestling in America. Unfortunately, it still attracts unsavory and opportunistic individuals today (many of whom never even entered an amateur submission grappling tournament!), so "caveat emptor" applies when looking for instruction. However, the rules you see on today's televised "Sports Entertainment" still reflect the old Catch-As-Catch-Can rules where a pin or submission win the contest.
Influence Upon Mixed Martial Arts (MMA):
The first modern match between a striker and a grappler happened in 1887 between heavyweight boxing champion of the world John L. Sullivan and Greco-Roman wrestling champion William Muldoon. Sullivan was slammed to the mat in two minutes.
The next big mixed match took place in the late 1890s when boxer Bob Fitzsimmons challenged European wrestling champ Ernest Roeber. Roeber took Fitzsimmons to the mat and applied an arm lock, making Fitzsimmons quit. In 1936, heavyweight boxer Kingfish Levinsky challenged professional wrestler Ray Steele in a mixed match that saw Steele win in just 35 seconds.
Scientific Wrestling has cut through the B.S. to bring you the best information jam-packed techniques and strategies for those that are dead-serious about excellence in their study of wrestling, MMA, (mixed martial arts), grappling, and/or Brazilian jiu-jitsu.

Joining Scientific Wrestling Online doesn't just mean learning techniques, tricks and secrets to win grappling and MMA contest; it also means being an integral part of the grassroots movement to bring back LEGITIMATE old school Catch-As-Catch-Can Wrestling!
Now if you are interested in Grappling or Wrestling and been game enough to give it a try, then you've probably been "tapped" or maybe even pinned before. Sure it's embarrassing, but to be honest it has happened to all of us at one point or another, but why did your opponent catch you?
It is safe to assume that it was simply because your opponent had access to better techniques, better conditioning methods or worse, both! Access to the right information is the difference that can make all the difference in the world.
We've already unearthed many hard to find resources, organized clinics to pass along legitimate techniques from the men that went to the post, and moderated quality informational internet forums. Now, and for less than one cup of coffee a week, your membership to Scientific Wrestling Online gets you instant access to:


Your favorite instructional and fight clips (including full-length episodes of the UWFi's "Bushido: Way of The Warrior") anytime and anywhere you can access the web!


An amazing 20% discount on all books and DVDs!


Instant access to every issue of the highly acclaimed Scientific Wrestling Times


Read the newest developments and research regarding Scientific Wrestling, BKB, and Western Combatives


Ask Questions and Share Advice in Our Top-Notch Combatives Discussion Groups


Grappling and Conditioning ideas and examples you can use


Fast Loading, High Quality Video Tutorials From the BEST Grapplers On The Planet


And much more!
Subscribe today and get all this and more.
(Check out these "Free Resources" for a glimpse at what members can see inside Scientific Wrestling Online)
Help us forever change the landscape of wrestling and keep scientific wrestling alive! Join now using our secure online order form.

NOW FEATURING HOUR LONG EPISODES OF "BUSHIDO: WAY OF THE WARRIOR"! (for members only...)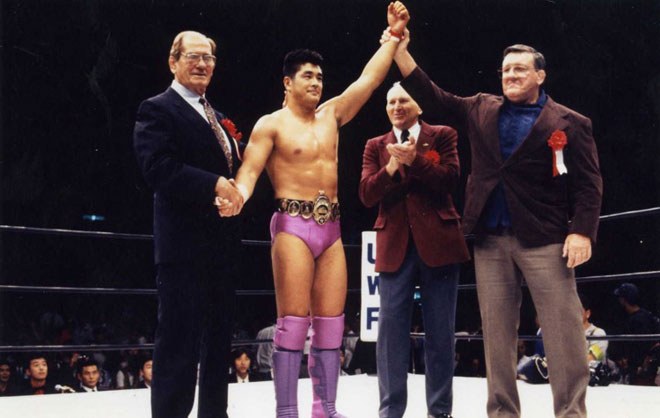 Takada with Lou Thesz, Danny Hodge, and Billy Robinson
UWFi was a proto-MMA organization that aimed to show that real, tough, submission wrestling is back. Their aim was to bring back credibility and respect back to the world of professional wrestling.
There are too many styles in the world of pro-wrestling today responsible for the bad reputation that pro-wrestling is sometimes associated with. In particular the "loud-mouthed", popular style that puts a premium on appearance and useless muscles, silly costumes, and trademark "cartoon" characters but very little premium on competitive wrestling, character, or proven skill.
From the UWFi perspective, that kind of show only encourages body abuse and sends the wrong sort of message to audiences, especially younger ones. The UWFi message is to get into the gym; get on the mat, learn from your elders and betters, respect your opponents, and do your best.
The UWFi matched all types of athletes; boxers, kickboxers, wrestlers, martial artists to show how effective the UWFi style is. The UWFi aimed to bring real professional wrestling back to the world!
You may not know this but LONG before Ultimate Fighting Championships and before the Pride Fighting Championships, the UWFi was THE original fighting organization to definitively answer the question;


"What REALLY happens when you mix martial arts styles in competition?! Who will come out on top of everyone else?"


In the early 1980's a group of wrestlers electrified the Japanese pro-wrestling scene. At the height of their popularity they quit pro-wrestling and joined a new promotion called the U.W.F. Their style was called "SHOOTING" (and old wrestling term for when you mean to really do someone in).
Combining elements of kickboxing, Sambo, jiu-jitsu, and catch-as-catch-can wrestling into a new exciting, dangerous and deadly sport, they took the science of wrestling to new heights. The addition of kicks and hitting created the toughest combat style ever seen.
Some of the members found the fighting too physically grueling and injury inducing. They retired from the ring or they went back to the pro-wrestling circuit. The remaining fighters regrouped and quickly rose to great popularity. At their peak they were able to sell out the 50,000+ seat Tokyo Dome in three hours (a feat the even UFC hasn't matched). People lined up the day before and slept in the streets to see them.
Former wrestling greats and real fighters came to Japan and passed their style of wrestling to the eager, young fighters. The UWFi shoot-style wrestling promotion features All-Star wrestling and martial art legends like:
Kazushi Sakuraba
Nobuhiko Takada
Gary Albright
Dan Severn
Mark Fleming
Kiyoshi Tamura
Kazuo Yamazaki
Yukoh Miyato
Bad News Allen

...with the help of legends Lou Thesz (acting commissioner of UWF), Billy Robinson (head coach), and Danny Hodge (coach)!
The Rules:

A fight is won by knockout, submission, Doctor/referee order stop or points. The point system works as follows: Opponents start with a set number of points. In a singles match it is 15 and in a tag team match it is 21 points.
One point is deducted when a man grabs the rope to stop the action. One point is deducted for a good suplex (a take-down from behind throwing the opponent on his back and head, a dangerous, painful move). Three points are deducted on a colored scoreboard as the fight is in progress for a knockdown.
Some offensive tactics are prohibited: you cannot headbutt, punch to the head with a closed fist (to the body, however, is ok), scratch, bite, eye gouge or attack the groin. Pretty much everything else is allowed.
You can slap or use the heel of the hand to the head. Time limits are set to between 20 and 60 minutes, but fights rarely go to the limit. When a fighter has both hands and knees on the ground, an opponent may attack to anywhere but the head. If even one hand is raised, the head may be attacked.
When a submission hold is applied, the referee pays close attention as it is very dangerous. It is easy to break bones, snap tendons and joints with such tactics. The referee will break the action if an opponent submits and will award the fight to the winner.
If a fighter grabs the ropes, the referee stops the action and a point is deducted. That's why you see a fighter try to get his opponent in the middle of the ring so he can't escape. If the wrestlers naturally roll into the ropes, action is stopped and points are not deducted. A 10 count is given for a knockdown, as in boxing.

However, point wins were rare since the wrestlers, despite how far behind on points, could still win by simply submitting their opponent (in a tag match, the legal opponent) or knocking them out cold.
The commitment to brutal realism was instrumental in the UWFi becoming the smashing success that it did. In fact, Thesz and Takada offered legitimate challenges to other Japanese Pro Wrestling promotions (like New Japan Pro Wrestling) and Takada took on genuinely tough men such as Russian wrestler (and former IWGP Heavyweight Champion) Salman Hashimikov, and fought former WBC Heavyweight Champion Trevor Berbick (in one of the most bizarre shoots in modern history. It really has to be seen to be believed).
With countless hours of fight footage, you will be shocked, amazed and entertained.
UWFi ROSTER

Japanese:

Nobuhiko Takada
Hiromitsu Kanehara
Kazushi Sakuraba
Kazuo Yamazaki
Kiyoshi Tamura
Naoki Sano
Yoshihiro Takayama
Yoji Anjoh
Masahito Kakihara
Tatsuo Nakano
Kenichi Yamamoto
Yukoh Miyato
Masakazu Maeda
Shunsuke Matsui
Ryuki Ueyama
Makoto Ohe (kickboxer)
"Foreigners":

Gary Albright
Dan Severn
Mark Fleming
Victor Zangiev
Salman Hashimikov
Vladimir Berkovitch
Bob Backlund
Gene Lydick
JT Southern
James Stone
Bad News Allen
Tom Burton
Steve Nelson
Mark Silver
Billy (Jack) Scott
Dennis Koslowski
Tommy Cairo
Steve Cox
Greg Bobchuck
Pez Whatley
Jim Boss
Bowy Chowaikun (kickboxer)