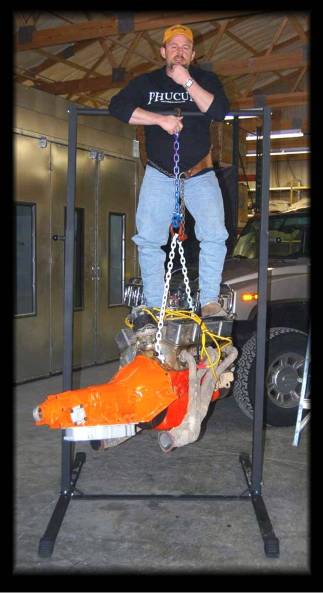 Torque Pull-Up System
This system is the Next Generation of transportable Pull-Up systems designed by the engineer's at Torque. This system is a dynamic leap in strength from previous units you many have seen.
If the strength improvements of this unit are in question, take a look at the photo below. That's a 240 lb man standing PLUS a complete engine and transmission, suspended solely by the pull-up bar on the New 2007 Torque Pull-Up System.
- Designed for quick and easy field setup and breakdown. Only a single wrench is required and fully assembles in less than 5 minutes. Work out anywhere or bring it to your client's place.
- New Extreme wrinkle Powder Coat finish will protect this unit even in the harshest of environments. Leave it outside with pride.
- Produced 100% in house and always in stock.
- Adjust from 5-1/2 feet up to over 9 foot high.
- Thick grip bar maximizes GRIP strength while reducing stress on your elbows.
- Use with Torque Accessories like Softball Pull-up Grips, Rings, etc. Also great for hanging a heavy bag for boxing workouts.
If you have grown tired of the ordinary indoor gym workouts, take this system outside and enjoy the sun.
Price: $425
Shipping: $95
Total: $520

NOTE ON SHIPPING: UPS pricing is representative of shipments within the continental United States.
We do ship overseas and outside the continental United States, however, blanket pricing for this is not available due to the expense changes from place to place.
Any orders requiring shipment outside the Continental United States will be handled on an individual basis so PLEASE email us before ordering.
Each order we receive with these requirements will be priced and submitted to you for customer acceptance prior to shipment.