I've been fortunate to train with truly amazing athletes like Brandon Ruiz, Wade Schalles, Frank Shamrock, and many others. I survived cancer as a teenager and consider every day a blessing and I am filled with gratitude to work with many men that also happen to be personal heroes.
Scientific Wrestling is the culmination of my efforts to record and share my journey in Catch-As-Catch-Can wrestling. I hope you enjoy!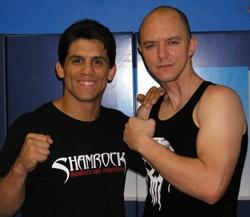 - Assistant Coach for Mr. Billy Robinson, 2007 - 2014.


-Shamrock Submission Fighting, level 2 certified.


- Introduced the West to the first open catch-as-catch-can specific training camps and seminars with Yoshiaki Fujiwara, Dick Cardinal, and Billy Robinson in 2006.

- Produced both acclaimed documentaries 'My Cigar with Karl' and 'The Scientific Wrestling Revolution: The Return of Billy Robinson to England ' in addition to scores of other top-notch quality grappling instructional DVDs with the top coaches in their fields.

- In 2006, developed the acclaimed 'Certified Catch Wrestler' program to provide authentic catch-as-catch-can training and authentication of training claims. The program has received unprecedented praise from top-ranking MMA athletes, top catch wrestling legends, Gold Medal winning wrestlers/grapplers, and novices alike.

- Launched first ever catch-as-catch-can tournaments in the modern age with rules devised with Karl Gotch in 2007.

- Invented the new fitness implement the Macebell in 2007.

- Wrote the best-selling book 'Say Uncle!: Catch-As-Catch-Can Wrestling and the Roots of Ultimate Fighting, Pro-Wrestling, & Modern Grappling' (a best-seller in two different categories on Amazon.com) in 2011.

- Ghost wrote best-selling Billy Robinson's memoir 'Physical Chess: My Life in Catch-As-Catch-Can Wrestling' (a best-seller in two different categories on Amazon.com) in 2012.