NO POINTS - NO POLITICS - NO SANDBAGGING
Submit or Pin to Win!
THE FIRST CATCH-AS-CATCH-CAN TOURNAMENTS OF THE MODERN AGE
SCIENTIFIC WRESTLING'S KING OF CATCH WRESTLING TOURNAMENT


Contact us if you're interested in running your own King of Catch Wrestling Tournament!
*********OFFICIAL KING OF CATCH WRESTLING RULES*********
- Submission or pin wins. All submissions are permitted and the pin count is 3 (both shoulders must be touching for a full 3 count). Horizontal slamming and strangles allowed (although spiking is strictly disallowed).
- All matches are best of 3 falls.
- Win, lose, or draw format, with no point system used to determine the final outcome.
In the event of a draw during tournament play, a replay is played. In the event of a second draw, both wrestlers will be eliminated.
-12 minute time limit per fall with 1 minute rest between falls.
-All matches occur in a ring or mat. Any body part on the ropes or out of bounds breaks the action and referee re-sets opponents standing in center (at referee's discretion).
-No striking, biting, eye gouging, hair pulling. Instant disqualification.
-Divisions include Super Heavy Weight (over 225), Heavyweight (over 200 lbs), Light Heavy (180 lbs) , Middle (160 lbs), and Light (140 lbs).
*Special thanks to Karl Gotch for guidance.
*******************************************************
ATTENTION EX-HIGH SCHOOL AND COLLEGIATE WRESTLERS: Have you wanted to enter a grappling tournament but felt your submission skills weren't up to par? Well all you have to do is avoid a submission and pin your opponent's shoulders for a three-count to win at the King of Catch Wrestling.
ATTENTION SUBMISSION GRAPPLERS: How many times have you competed against a sandbagger? At the King of Catch Wrestling, there is no 'beginner', intermediate', or 'advanced' division. The whole tournament is open to all levels. WORSE, how many times have you lost a match on an arbitrary 'point system'? At the King of Catch Wrestling we have no point system WHATSOEVER.
ATTENTION BRAZILIAN JIU-JITSU STYLISTS: Many know that Mitsuyo Maeda taught Carlos Gracie to fight. What most do not know is that Maeda perfected his system competing in Catch-As-Catch-Can tournaments (as "Count Koma") at the turn of the 20th Century. Maeda is rumoured to have fought over 2,000 matches in his career and he only lost two matches and one in the "catch-as-catch-can" world championships held in London (he entered in both the middleweight and heavyweight divisions and advanced to the semi-finals in two weight classes)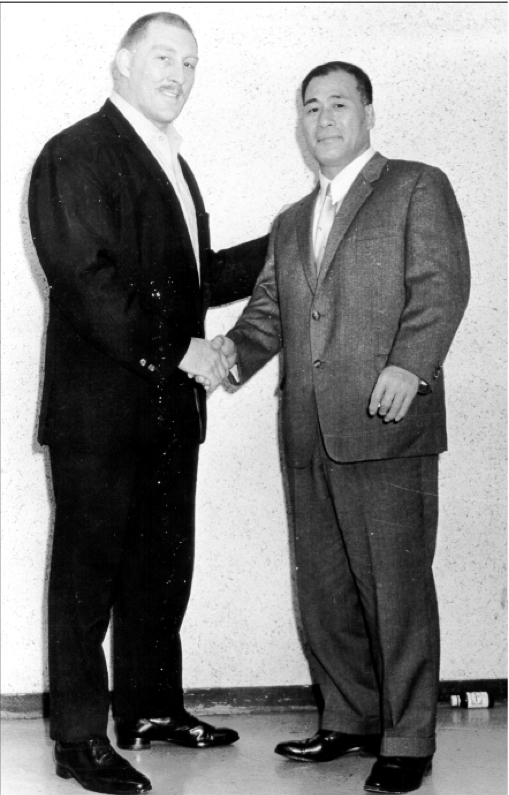 Karl Gotch with Masahiko Kimura
Maeda wasn't the only one, the famed Masahiko Kimura learned legitimate Catch-As-Catch-Can while working as a Professional Wrestler for Rikidozan in the early 1950s. Join the long tradition of game Jui-Jitsu players that compete in Catch-As-Catch-Can competitions!
ATTENTION PROFESSIONAL WRESTLERS: Tired of people calling your passion phony? Come put yourself to the test and see what it is like to compete under classic Professional Wrestling rules FOR REAL.
ATTENTION MIXED MARTIAL ARTS FANS: Love the action of MMA but bored to tears watching competitive BJJ or submission grappling tournaments? The King of Catch Wrestling pinning provision pushes the action (no more stalling in the guard or "lay and pray") and with no point system, there are no politics or screwy decision wins.
*******************************************************
Official RESULTS from King of Catch Wrestling Tournament, West Coast Qualifier
- November 17th, 2007, Santa Monica, California.
Women's Champion -- Ana Murcia (The Training Mat)

Lightweight Champion -- Ruben Ortiz (The Training Mat)

Middleweight Championship Match -- Jesse Kristofferson (CSW and Scientific Wrestling Level 1 Certified Catch Wrestler)

Heavy Champion -- Luis Ojeda (Heisei Judo Club, Scientific Wrestling Level 1 Certified Catch Wrestler)

*******************************************************
Official Canadian Qualifier RESULTS from Catch Canada
- August 4th, 2007, Jonquiere, Quebec.
Lightweight Champion - Serge Gaudreault (Catch Wrestling Canada)
Middleweight Champion - Maxime Poulin (Bjj Quebec)
Light Heavy Champion - Nicolas Exame (Catch Wrestling Canada )
Heavyweight Champion - Mike Martelle ( Grizzly Gym)
*******************************************************
Official Eastern Qualifier RESULTS at the
2007 Shoothook Submission Tournament
- June 23rd, 2007, Madison, Mississippi.
Light Heavy Champion -- Kevin Sniff (Westside Fight Team)
Heavyweight Champion -- Wes Shivers (Madison Wrestling Club)