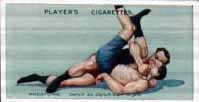 Scientific Wrestling's Advisory Board Members
Josh Barnett - Youngest UFC heavyweight champion, King of Pancrase, and top-of-the-food-chain MMA competitor.
Frank Cain - Carnival combination man (boxer/wrestler) and world famous professional wrestler (aka The Great Mephisto) and booker.
Dick Cardinal - Feared Athletic Show carnival wrestler.
Mark Fleming - UWFi alumni, head instructor for Lou Thesz's professional wrestling gym.
Yoshiaki Fujiwara - Famous student of Karl Gotch, founder of Pro-Wrestling Fujiwara-gumi
Neil Melanson - Head Grappling Coach for UFC legend Randy Couture and Xtreme Couture Las Vegas.
Erik Paulson - First American to win the World light heavyweight Shooto title and renowned MMA coach.
Billy Robinson - Legendary Wigan trained catch-as-catch-can authority, trainer for UWFi, and professional wrestler.
Wade Schalles - Guinness of World Records for the most victories (821) and most pins (530) in wrestling. He has defeated 36 national champions (pinning 17 of them) as well as defeating 8 World titlists (each total is considered a record).
Mark Schultz - NCAA Champion, World Champion, Olympic Champion, and UFC winner
Dan Severn - UFC Hall of Famer, 3 time UFC heavyweight champion, UWFi fighter, former WWE superstar
Frank Shamrock - 5 time undefeated UFC middleweight champion, former King of Pancrase
Jake Shannon - Founder of Scientific Wrestling, author of the best-selling Say Uncle! book, Assistant Coach, and inventor of the Macebell.
Billy Wicks - Carnival Wrestler, student of Henry Kohln (Farmer Burns student).
Post-mortem Advisory Board Members:
Karl Gotch, R.I.P.